Can Quietus Really Relieve Your Tinnitus?-Review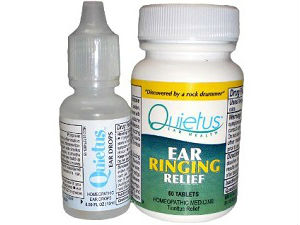 Quietus Review
Here is our real life review of Quietus. Tinnitus can be a very serious problem for many and they are desperate for relief. We want you to have all the information on this tinnitus relief treatment so you can decide for yourself if this product is right for you. We did a thorough analysis on this product and we feel that while it is a good product, it didn't really hit the mark for tinnitus relief. Read on for more information on this product. Tinnitus can be a really annoying and a serious issue. The ringing in your ears can cause dizziness, nausea, hearing loss and much more. Some people go for days, weeks, months and even years suffering from tinnitus. It has many causes and should always be checked by a physician first. There are a number of products out there that claim to cure or ease tinnitus. Some of them work and some of them are all hype. We wanted to give you a straight up review of Quietus and the fact on if this product really does work to alleviate or relieve this annoying condition. We know if you suffer from this condition, you are probably desperate for relief. It helps to have all the information before buying a product. We took Quietus and put it through our rigorous analysis to see if the claims are true. We found a product that may possibly be more hype that truth, but you can decide for yourself.
Product Claims
It is important to understand that Quietus is a homeopathic remedy. It is also important to know that there is no known cure for tinnitus. Quietus claims that it can totally stop the ringing in the ears, but does not promise a cure. The positive is that this product is all-natural and safe for use. There are no known side-effects and safe for use in anyone. Quietus also claims it can relieve the pain and dizzy spells that accompany this condition. Consumer reviews state this product mostly does not work for tinnitus symptom relief. Tinnitus is caused by an underlying condition or medication side-effect. There is also a disease of sodium imbalance called "Meniere's Disease," that causes tinnitus. Certain health conditions can cause ringing in the ears. Realize that tinnitus is a condition in itself, but often a symptom of another. Your body is telling you that something is not right. This is why the only real way to relieve tinnitus, is to correct the condition that may be causing it. After reviewing the consumer reviews we don't believe this product can relieve or cure tinnitus. It may work for some just from a "placebo effect," meaning just taking something you believe will work makes it helpful. The consensus on tinnitus treatment is that there are no medications that actually bring relief. Other methods have proven more helpful, such as; white noise and cognitive behavior therapy that require no medications. The company let's you know that you will need to take the product continuously and it may take weeks or even months to experience relief. This can get costly, especially if after using it for 3-4 months you don't have any relief and are past the money-back guarantee limits.
Cost and Money-Back Guarantee
Quietus goes for about $100 and includes the tablets and some ear drops. You get 60 tablets, which is about a two-month supply. The ear drops can be used as often as you like for pain and fullness. Quietus can be found online and you can call to order. They do offer a 100% Money-Back Guarantee on the product. If you are not satisfied with the product you can return it within 60 Days for a full refund of your money, minus the shipping and handling charges. Be sure to read any fine print on the guarantee and follow the guidelines exactly in order to expedite the return process.
Quietus Final Review
This product just did not measure up to what we were expecting. We are all about all-natural, herbal and homeopathy. But in order for us to give a good review, a product has got to work. This product may work for some, but for most it didn't do anything to relieve tinnitus. Of course, we can account some of that on compliance with actually taking the tablets. Most of the consumers that stated it didn't work took the tablets every day as directed. Some people did state that the ear drops were helpful for pain relief and that was a plus in our book, but who wants to pay $100 for ear drops only? We are just concerned that you might pay too much for a product that does not work and with a 60 Day supply, you have no time to waste in getting it returned if it does not work for you. We believe this product does not work for everyone and is a risky buy. There are also reports of slow refunds, slow shipping and long wait times on hold with customer service. We didn't see a whole lot of concern and commitment for the consumer and that is what you need when you are suffering from such a severely annoying condition like tinnitus. If you suffer from tinnitus, try another alternative form of therapy and check with your physician to see if there is anything else you can do. You should try this product at your own risk!