Research Verified Thyroid Aid - Review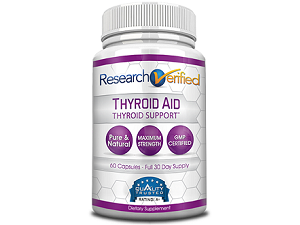 Product Claims of Research Verified Thyroid Aid
In our Research Verified Thyroid Aid review, we aim to determine the value of this dietary supplement in terms of thyroid support. As we all know, there are plenty of thyroid supplements being distributed online and in pharmacies that it is surprisingly difficult to find a product that actually works. What Research Verified claims is that their Thyroid Aid can address the root of your thyroid problem to alleviate the symptoms of the disease while at the same time, bring balance to thyroid function. They also claim that their thyroid supplement can help boost your immune system, provide support to nutrition deficiencies, as well as regulate thyroid hormones just to name a few. If you want to know more about this product, read our review below.
Ingredients
Magnesium (Oxide) - 204mg
Zinc (Oxide) - 10mg
Manganese (Sulfate) - 2000mcg
Selenium - 260mcg
Copper - 200mcg
Iodine - 150mcg
Vitamin B12 - 100mcg
Molybdenum - 52mcg
L-Tyrosine - 304mg
Ashwagandha - 200mg
Schizandra - 150mg
Bladderwrack - 60mg
Kelp - 20mg
Gotu Kola - 10mg
Coleus Forskohlii - 10mg
Gugulipid - 10mg
Other ingredients: Gelatin, Microcrystalline Cellulose, Magnesium Stearate, Silicon Dioxide
Most of the ingredients included in this dietary supplement play an important role in thyroid function. The presence of vitamin B12 is essential in this supplement as those with hypothyroidism are low in this vitamin. Each one of the ingredients here is chosen for their ability to address thyroid problems, boost the immune system, improve metabolism, and ensure that hormonal balance is achieved for better thyroid function.
Dosage Instructions
According to the label on Research Verified's Thyroid Aid, the best way to take this supplement is to take two capsules every day. To get the maximum benefits of this thyroid supplement, you should take one capsule twice a day, preferably before a meal, and with 8 ounces of water. Women who are pregnant or nursing, children under the age of 18, as well as those with medical conditions, should consult with their physicians first before taking Thyroid Aid. It is also important that you stick with the recommended dosage for the best results. To understand what other things you should be careful with or looking for when buying supplements, read our Research Verified Brand Review.
Cost and Guarantee
Based on our research, we find the cost of Thyroid Aid to be well within everyone's means. When you purchase a single bottle of this supplement, you'll pay $48. The real savings can be received from their three months' and six months' supplies with prices at $98 and $142 respectively. It is easy to purchase this product online from Research Verified's website. What we like about this product is that it comes with a 365-day money-back guarantee which cannot be seen with other manufacturing companies. This is something worth considering if you are planning on using a supplement to support your thyroid function.
Summary of Our Research Verified Thyroid Aid Review
After carefully reviewing all the information we have gathered about Research Verified Thyroid Aid, we have come to the conclusion that this supplement is definitely worth considering as all of the ingredients used are all-natural and come at the right dosage for them to be effective. Add to this the fact that you will get big savings whenever you buy directly from the manufacturer is a huge plus, not to mention their one-year money back guarantee.
If you are wondering which thyroid supplement to use, we highly recommended Thyroid Aid from Research Verified.