Advanced Bionutritionals' Advanced Joint Support-Review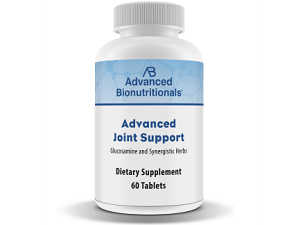 Product Claims of Advanced Bionutritionals' Advanced Joint Support
If you are tired of having the aches and pains of joint discomfort then Advanced Bionutritionals says look no further than Advanced Joint Support. By combining Turmeric with Bioperine along with Boswellia and a few other key ingredients, the company claims it has the breakthrough formula that will help you be healthier and feel healthier. It says its formulation contains the key to reducing pain, easing stiffness and lowering inflammation. Our reviewers delved deeper. Read the full review below to see what they found out.
Ingredients
Glucosamine Sulfate 2KCL, 1500mg
Turmeric Phytosome root, dried extract at 18%, 200mg
Ginger, root dried extract at 5%, 60mg
5-Loxin Indian Frankincense dried extract at 30%, 100mg
Yucca root dried extract at 30%, 200mg
Purple Passion Fruit, 200mg
Black Pepper Extract, 15mg
Other ingredients include: Tricalcium phosphate, powdered cellulose, silica, vegetable stearic acid (vegetable cellulose sodium), calcium stearate, rice extract, cellulose coating, and riboflavin coloring).
Turmeric Phytosome, branded as Meriva, is said to be a proven analgesic that is stronger than regular turmeric extracts. Ginger root is said to have multiple functions, by fighting joint pain, helping to decrease swelling and retarding cartilage loss. Glucosamine sulfate is a more standard joint treatment ingredient, said to be a bioavailable form of glucosamine which is a component of cartilage.
Dosage Instructions
The recommended amount is two tablets daily. There is no further information on when to take these tablets and if they should be taken at meal times or prior.
Cost and Guarantee
Advanced Joint Support has a few packages. The Starter Pack, a single bottle with 60 capsules, can be purchased for $29.95. The three month (three bottle) Savings Pack is available for $79.95 saving you $9.90 off of the regular price. Their least expensive per-bottle package is the six month Savings Pack for $149.70 providing a $30 savings plus free S&H.
The manufacturer offers an unbeatable money-back guarantee as there is no time limit for refunds, it accepts open bottles for return ("down to the last pill") and even refunds your original shipping charges (meaning you only pay the return shipping).
Summary of our Advanced Bionutritionals' Advanced Joint Support Review
Advanced Bionutritionals' Advanced Joint Support provides a unique formula which could be effective in reducing joint-related pain. It provides copious information on its product website to back up its claims. To its credit, it has also made both positive and negative user reviews available on its website, the latter being something most manufacturers simply keep off their product pages. The negative ratings simply indicate it did not work for them. And the return/refund policy is definitely top-of-the-heap. We would point out that the glucosamine sulfate is a shellfish derivative so vegetarians will want to look elsewhere. Also, while this ingredient is usually safe, side effects such as nausea, heartburn, diarrhea and constipation have been reported on occasion.
Top analysis brought to you from the Analyze That team.