aSquared Nutrition CoQ10-Review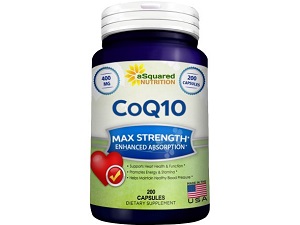 Product Claims of aSquared Nutrition CoQ10
Today we are reviewing aSquared Nutrition CoQ10. This is a supplement designed to help improve general cardiovascular health, regulate blood pressure and increase energy and stamina. The manufacturer also claims that the product can fight the signs of aging and prevent oxidation damage caused by free radicals in the body.
Ingredients
This main active ingredient in this supplement is a relatively high amount of 400mg of Coenzyme Q10. It also contains additional fillers such as rice powder. These fillers are usually synthesized within a lab and compromise the purity and potency of the natural ingredients.
Dosage Instructions
For optimal results, take 1 capsule daily with meals. This dosage of 400mg is significantly higher when compared to other leading brands who mostly recommend no more than 250mg of CoQ10 per day. This supplement's dosage may actually do more harm than good at these high levels. Doses above 300mg per day can lead to side effects such as rashes, nausea, abdominal pain, dizziness, sensitivity to light, irritability, headache, heartburn, and fatigue.
Cost and Guarantee
On the company website, one 200 count bottle of capsules costs $39.99. There are discounts if you purchase in greater quantities; buy 2 bottles, receive a 10% discount, buy 3 bottles, receive 15% discount, if you buy 4 or more bottles you receive a 20% discount. If you subscribe to the mailing list you get 15% off your next order.  In terms of product guarantee, aSquared Nutrition advertises a 30-day money back guarantee, but it does not apply to opened bottles. This policy does not give you the opportunity to test the product first before returning it if you find it doesn't work for you. 
Summary Of Our aSquared Nutrition CoQ10 Review
aSquared Nutrition has some positives. There is free shipping on all orders, and a 30 day money back guarantee. The product pricing is quite reasonable. You get 200 capsules for $39.99 plus cheaper pricing the more you buy. There is also a 15% discount off a follow up order if you subscribe to the mailing list. We do have several concerns too. We were concerned that the dosage of 400mg in this supplement is too high and can lead to side effects. Despite the manufacturer's claims to the contrary, the product does contain fillers and binders, which includes rice powder which is clearly mentioned on the product label. Although the supplement comes with a guarantee, in our opinion it is weak since it requires that the product needs to be returned in the same condition it was received in (ie only closed bottles) and doesn't allow you to try the supplement for effectiveness with the hope of getting reimbursed if not effective. A thirty day guarantee is also too short. Many of the reviews we read stated that the product did not have any beneficial effects. We suggest you look for an alternative CoQ10 product that comes with a safer dosage level, a better product guarantee and return policy, and a purer combination of ingredients without fillers nor binders. 
Top analysis brought to you from the Analyze That team.