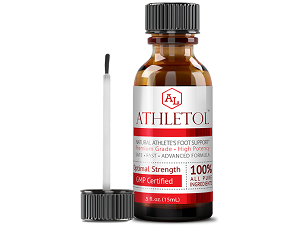 Product Claims of Athletol
Athlete's Foot is a condition that is generally seen in many Americans today and is considered a fungus. Fortunately, there is Athletol. In this review of Athletol, we will explain how its clinical strength and formula gives way to relieving users of fungal infections, itching, and burning. Most of all, it focuses on soothing and healing the foot for better future healthcare.
Ingredients
Undecylenic Acid USA (25%)
Mineral Oil
Organic Flax Seed
Aloe Vera and Canola Oil
Tocopheryl Acetate
Walnut Oil
Menthol
Clove Oil
Jojoba Oil
Chia Oil
Lavender Oil
Manuka Oil
All of the ingredients listed are a combination of soothing oils and minerals to relieve the user of pain and discomfort. They provide anti-inflammatory, anti-itching, antiseptic and antibiotic properties in the most natural manner. Undecylenic acid at 25% is at its most potent and is there to provide anti-fungal relief. Once this has acted, the other minerals take over to aid in healing the skin and providing antibacterial properties. All of these ingredients are 100% premium grade at their highest potency for best effects. These ingredients have been specifically chosen based on clinical studies that have shown them to be effective for managing the symptoms of athlete's foot.
Dosage Instructions
With the applicator brush, apply two to four times a day on the affected area. Avoid contact with eyes and mouth and be in touch with your doctor if you have swallowed or if you get the product in your eyes. If any rash or irritation occurs, stop using and contact a physician.
Cost and Guarantee
Athletol comes in a few purchasing packages when buying from the manufacturer's website. Users can purchase one bottle for $49.95, two bottles for $69.90, four bottles for $111.80 and six bottles for $139.80, saving over $200.00 with the last package. The manufacturer's website is protected by Norton, so you do not have to worry about ID theft with your online purchases.
The manufacturer offers a 60-day money back guarantee. If you are not satisfied, you can return the product for a full refund (minus the cost of shipping and handling). You are able to return both opened and closed bottles which shows the importance the manufacturer has in customer satisfaction.
Summary of Our Athletol Review
Athletol is there to provide the best and most effective natural relief for athlete's foot in the market today. With its combination of Undecylenic Acid at 25% for its most potent anti-fungal properties and its minerals and oils, it gives users the most soothing relief. Its four-step process is simple. First, Athletol soothes the fungus by controlling the itching and burning and preventing the infection from spreading. Second, the swelling is reduced to promote healthy tissue. Third, the lower dermal layers are penetrated to completely extinguish the fungus and provide anti-bacterial relief. Lastly, the skin tone is the primary focus, to promote the healing of all the wounds and most importantly, hydrating the skin for healthier skin tone and health. Based on our research, there is no better product with this quality of ingredients that can penetrate athlete's foot like Athletol can.
Top analysis brought to you from the Analyze That team.