Beneflex Joint Relief-Review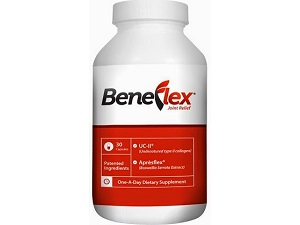 Product Claims of Beneflex Joint Relief
The subject of our product review today is Beneflex Joint Relief. This supplement provides four main ingredients for treatment of joint pain and discomfort. The company claims that this supplement is the latest in cutting edge research. This supplement comes in a highly concentrated capsule that is supposed to be a premium joint formula.
Ingredients
Hyaluronic Acid 90% - 5 mg
UC-II (Providing 10 mg undenatured type II collagen) - 40 mg
AprèsFlex - Boswellia Serrata Extract - 100 mg
Turmeric Extract 25:1 (standardized to 95% curcuminoids) - 200 mg
Other ingredients:
Gelatin
Cellulose
Magnesium stearate
The active ingredients are natural anti-inflammatory compounds that are intended to increase the amount of antioxidants in the body.
Dosage Instructions
Take one capsule per day with water. Neither the company website, nor the product label specify at what time of day it should be taken. The company claims you will see results in as short a time as one week. They also recommend that you continue taking this supplement for at least three months.
Cost and Guarantee
Beneflex Joint Relief can't be purchased directly from the manufacturer's website, and it was also not available on Amazon. We found it online at another retailer for $47.99 for a 1-month supply of 30 capsules. The cost of shipping is extra. This product is backed by a 30-day money back guarantee. The manufacturer generously allows you to even return an empty bottle of capsules too. The cost of return shipping is your responsibility.
Summary Of Our Beneflex Joint Relief Review
In summarizing our review of Beneflex Joint Relief, we have a few positive comments, and a bunch more negative ones. The product contains turmeric extract standardized to 95% curcuminoids which is a high concentration and should provide beneficial results. The manufacturer provides a strong guarantee and return policy on this product since it allows you to return even empty bottles of capsules which is rare in the world of supplements. There were some positive reviews from users who stated that the product was helpful to them. We have a longer list of negative comments however. It was somewhat challenging to find pricing for this product. It is not sold on the company website and is unavailable on Amazon. Elsewhere we found it for sale at $47.99 for a one month supply. This is an expensive supplement to buy and is made more costly because there is no bulk buying discount or first time customer incentive provided by the manufacturer. The dosage instructions were somewhat vague. Neither the company website, nor the product label specify at what time of day you should take the supplement. The supplement is not suitable for vegetarians or vegans because it contains gelatin. While the guarantee is good, it only applies if you have enrolled in an automatic recurring subscription program which is bad. If you are in the market for a joint supplement, we suggest that you look for one that is better value for money, with a more inclusive return policy that doesn't require you to be locked into a recurring subscription program.
Top analysis brought to you from the Analyze That team.