Blue Goo Nail Fungus Triple Relief-Review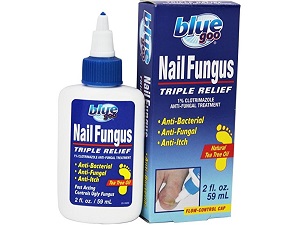 Product Claims of Blue Goo Nail Fungus Triple Relief
The following review analyzes Blue Goo Fungus Triple Relief Anti-Fungal Treatment with Natural Tea Tree Oil. Blue Goo Fungus Triple Relief is commonly used for the relief of most types of athlete's foot, jock itch, and ringworm. It also helps prevent the fungus that stimulates ugly nail syndrome. This product claims to stop itch, absorb moisture, control odor, provide maximum strength itch relief, absorb excess moisture and help control foot odor and odor-causing bacteria. They achieve this through their active key ingredient, clotrimazole, that is known to be effective in the relief of nail fungi and also through the infusion of tea tree oil in their product. Their product comes with a flow control cap for easier and mess-free application.
Ingredients
Active Ingredients:
Clotrimazole 1% (antifungal)
Inactive Ingredients:
Alcohol Denat

Water

Acrylates/C10-30 Crosspolymer

Talc

Tapioca Starch

Isodecyl Neopentanoate

Octyldodecyl Stearte

Acrylates

ACrylamide Copolymer

Polysorbate 85

Fragrance

Lauroyl Lysine

Cyclomethicone

Dimethicone

Polyisobutene

Tea Tree (melaleuca alternifolia) oil

BHT

Propylene Glycol

Methyl Paraben

Propyl Paraben

Pehnoxyethanol

Isopropylparaben

Isobutylparaben

Butylparaben

D&C red #33
Otherwise known as Lotrimin, Clotrimazole acts by breaking and dissolving cell walls of disease-causing fungi. It has been proven highly effective and is also prescribed in oral form to treat nail fungus. The key ingredient, Clotrimazole, may cause side effects like itching, burning, irritation, redness, swelling, stomach pain, fever and upset stomach and vomiting.
Dosage Instructions
Blue Goo Nail Fungus Triple Relief recommends cleaning the affected area well, thoroughly drying the area, shaking the bottle well and applying a thin layer twice daily or as directed by a doctor. It is advised not to give to children under the age of two. If conditions worsen or do not improve they recommend consulting your doctor. They approximate it takes 4 weeks to cure athlete's foot and ringworm and 2 weeks for jock itch. If swallowed call poison control.
Cost and Guarantee
You can buy this product from different third-party retailers. We found one 2 oz. bottle of Blue Goo Nail Fungus Triple Relief sold online for $4.56. We could not find a manufacturer's guarantee for this product. The price and guarantee will vary depending on the retailer where you buy from.
Summary Of Our Blue Goo Nail Fungus Triple Relief Review
This product seems to be a decent product because it contains the well-known antifungal, clotrimazole. However, this ingredient is known to lead to certain side effects. The ratio of active to inactive ingredients is disproportionate and it is discouraging to see an extensive list of inactive ingredients. In our research of nail fungus products, we have also found competitive products that have more active ingredients that offer more effective relief for different types of nail fungi. The fair price is encouraging but ultimately if you're only paying for one key ingredient that will not effectively relieve nail fungus you will have to resort to another, better product so it will end up being a waste of money. With only one key ingredient we could not confidently endorse this product as one to invest in over others that are available with more effective key ingredients.