Body and Breath Fresh-Review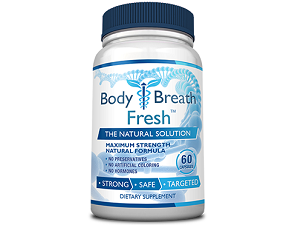 Product Claims of Body & Breath Fresh
This is a review of Body & Breath Fresh, a supplement which, after looking into this product in some detail, we rate as a top malodor relief option. The formulation features a blend of ingredients that, the manufacturer says, are the subject of extensive research and been shown effective in dealing with bad breath and body odor. Its maker describes it as the "ultimate, 100% natural relief" for fighting malodors. According to it, this product doesn't just mask the problem, but goes to its root for more thorough results. We don't always agree with manufacturer claims, so continue reading our Body & Breath Fresh review to find out why in this case we do and rate the product highly.
Ingredients
As claimed by the manufacturer, this offering includes only natural ingredients (amount per serving of two capsules):
* Lactobacillus acidophilus - 2 million CFU.
* Chlorophyllin-copper complex (or Chlorophyllin) - 200 mg.
* Green tea - 200 mg.
* Magnolia bark extract - 200 mg.
* Peppermint oil - 100 mg.
* Fennel seed - 100 mg.
A probiotic, Lactobacillus acidophilus helps to check growth of fungi that can lead to bad breath and body odor. Chlorophyllin-copper complex boasts antibacterial and deodorizing properties that make it ideal for combating malodors. Green tea and peppermint oil offer antimicrobial, antibacterial and antioxidant properties which help with bad breath and body odor by dealing with toxins and relieving digestive problem issues. Also known as Magnolia officinalis, magnolia helps to fight anxiety and stress that could contribute to bad breath. Fennel seed, which has laxative properties, promotes bowel regularity.
Dosage Instructions
Body & Breath Fresh comes in capsule form. The usage advice is for adults to take 2-3 capsules daily as a dietary supplement. Two capsules a day - one each in the morning and afternoon - is the dosage for maintenance.
Cost and Guarantee
In terms of pricing, purchase of a single 60-count bottle of Body & Breath Fresh would set you back $49.95. If you are interested multi-pack savings, discounts are available. Buy two bottles sells for $69.90 and three bottles for $118.80. The six-bottle supply saves you the most money at $139.80 ($23.30 per bottle). The product is available for sale via the manufacturer's website.
The 60-day money back guarantee on offer makes it more worthwhile considering taking advantage of the bulk discounts. Body & Breath Fresh manufacturer promises to provide a refund on both used and unused items, if you are not satisfied. Just be sure not to throw away empty bottles. This policy probably contributes to why this malodor relief product has positive reviews online.
Summary of Our Body & Breath Fresh Review
This is probably the best all-natural bad breath and body odor relief product we have reviewed. The ingredients offer properties, highlighted in research that shows their efficacy, that can help fight odor-causing agents in the body. You can enhance the effect by improving your diet and maintaining good hygiene. We also like that the product originates from a US facility with FDA approval and GMP certification. In case you are not pleased with results, the 60-day money back guarantee has you covered, allowing you to try this product (and avail yourself of the bulk-buy savings) without risk. Body & Breath Fresh is, in our opinion, a product to check out when looking for natural malodor solution.