Brock Beauty's Hairfinity-Review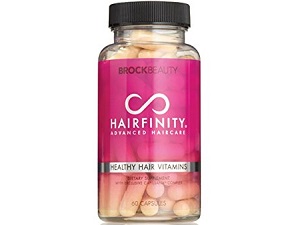 Product Claims of Brock Beauty's Hairfinity
This review examines Brock Beauty's Hairfinity advanced haircare. Many women out there focus on the health and conditioning of their hair, spending fortunes on cuts, colors and other types of treatments at the salon. However, Brock Beauty claims to have found the cure for unhealthy hair and to have made it available as a nutritional supplement. By supporting hair growth from the inside out, the claim is that Hairfinity will give your hair the nutrition needed to grow more healthy and vibrant. Read our full review below to find out what we learned when researching Hairfinity.
Ingredients
Vitamin A, 8150 IU
Vitamin C, 100mg
Calcium, 217mg
Vitamin D3, 100 IU
Vitamin B1, 5mg
Vitamin B2, 5mg
Vitamin B3, 5mg
Vitamin B6, 5mg
Folic Acid, 200mcg
Vitamin B12, 20mcg
Biotin, 2500mcg
Pantothenic Acid, 100mg
Capilsana Complex Proprietary Blend, 970mg and including:

MSM (Methylsulfonylmethane)
Hydrolyzed Collagen (Amino Acids: Isoleucine, Leucine, Lysine, Methionine, Phenylalanine, Threonine, Valine
Horsetail

Other ingredients: Magnesium Stearate
The vitamins included are there to provide protection for the scalp, to strengthen and nourish the hair follicles. Biotin is well known for promoting healthy hair and producing keratin. However, the ingredients are missing the most effective form of Vitamin E in Tocopheryl Acetate as well as many other key components for hair loss such as Borage Oil, Ginkgo Biloba, and Fo Ti.
Dosage Instructions
The manufacturer recommends that two capsules should be taken daily.
Cost and Guarantee
At the time of our review you could purchase a one-month supply of Hairfinity (60 capsules) for $25.00 from the manufacturer's website. Since Brock Beauty works with reward points, customers receive 25 points for purchasing now. Each purchase has a "points" value and if you have enough points, you can purchase specific products free of charge. Hairfinity is worth 313 rewards points.
Brock Beauty has a strict 30-day return policy. Returned products must be received within the 30-day period for a refund and they must be unused and unopened. This type of policy, of course, effectively restricts a new user from being able to try and (if dissatisfied) return the product without financial risk.
Summary of our Brock Beauty's Hairfinity Review
Hairfinity by Brock Beauty seems to have found the key to shining and luscious hair, with its proprietary formula and use of vitamins and minerals that work from the inside out. While they do use most of the necessary ingredients, they are also missing key components that promote hair strength. Moreover, its refund policy is stricter than that of most of its competitors, giving clients only thirty days to return unopened product. Lastly, reviews are split. While customers say that the product does work and does help with hair growth, there are some concerning side effects reported such as those that affect the skin (acne and rashes) and/or headaches and stomachaches. In addition, some customers complained that the pills are big to swallow. If you have $25 to risk on a bottle and aren't concerned about the potential for side effects it may be worth a try. Otherwise, we would suggest you look for a product with a more customer-friendly return policy and no side effects.
Top analysis brought to you from the Analyze That team.