Epiduo - Claims to heal your skin, is that so?-Review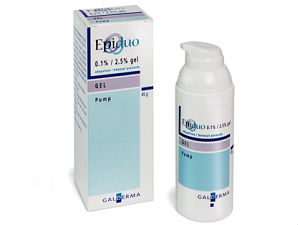 epiduo Review
Here is our real life review of Epiduo. Acne can be an embarrassing issue and there are products all over the market to help relieve this condition. Medical treatments from a dermatologist can get expensive and some over-the-counter products don't work well. Epiduo is a great combination of two acne fighting ingredients for a relatively low-cost. We were impressed with this product and wanted to give it our own analysis and bring you our honest opinion on the product.
Epiduo contains two of the strongest ingredients known to help fight acne all in one formula. These include benzoyl peroxide and adapalene that when used together can really clean pores deeply and reduce the incidence of acne spots or blemishes. Humans are prone to break-outs of acne mostly due to hormonal changes and genetics. Hormonal changes makes it more common in teenagers and this is a very hard time of life to have to deal with embarrassing acne. Companies like Epiduo make it just a little easier with treatments that can help to reduce break-outs. We took a good look at the website and we were impressed with the acne education offered. The first page clearly explains why and how acne occurs. They also explain that this is a prescription medication that you get from your physician and your insurance may cover all or part of the costs.
Product Claims
This product has a unique combination of two strong ingredients to fight acne. The company claims that this combination is more effective than most brands and you only need a small amount of the product. They claim this reduces doctor visits and that one prescription will last 3 months. They claim that this is the only treatment that contains adapalene and benzoyl peroxide. Whether it is advertising, marketing or product success, this product is experience a growth spurt and becoming a very widely known and used brand in the U.S. The company does not really boast about product success or user reviews. Instead, they are very honest about how the ingredients work and they also let the user know about possible side-effects. They have performed clinical studies on the ingredients and they have been proven to work in the studies. Plus, the cost of the product is very affordable. You only need to use a very small amount of the gel once daily to experience the best results. In order for the product to work correctly, you will have to commit to using the product daily, plus spot treatments as needed. The gel works to clean out pores and allow air to reach the actual blemish and promote healing. Using the formula daily for cleansing will help to clean your pores and spot treatments will help to heal each individual blemish. After a 12 week study, subjects were noted to have a moderate improvement in blemishes and a very low incidence of side-effects were noted with treatment. The company states the formula is very safe for use in teens and young adults.
Cost and Money-Back Guarantee
The cost of Epiduo gel is around $100 to $110 for a pump bottle. One pump bottle lasts about 3 months when used according to directions, which is a small pea sized amount of product daily. The company offers coupons to help with cost and some insurances may cover the cost of the product in part or in full. There is no money-back guarantee with Epiduo because due to prescription drug laws, you cannot return a prescription drug. If the product does not work for you, then you simply just ask your doctor for another prescription for another product. If you have an allergic reaction or severe side effects, make sure you report this to your physician.
Epiduo Final Review
Because of the formulation, we feel confident that Epiduo is a good product to try for acne. This is the only company that combines these two ingredients and we feel they are a good combination. We were a little concerned about the side-effects, but found during our analysis that the incidence is very low and they are very mild. We were impressed to see the improvement of acne in the clinical trials, we really liked the informative website and the fact that the company offers coupons for patients wishing to ask their physician for this product. It truly shows the company cares about acne sufferers and wants to offer relief from the embarrassment of this condition. The product is very easy to use and you only need a small amount of product, which could save a lot of money in the long run. The company suggests that patients continue use of this product even when acne clears up to prevent future break-outs from reoccurring. This could run into a bit of expense, but some doctors may discontinue use after break-outs clear up. Just remember to check with your doctor before stopping use of the product. Overall, our analysis team felt this is a good product for acne and feel that it really can work for some people. Good job Epiduo!
Top analysis brought to you from the Analyze That team.