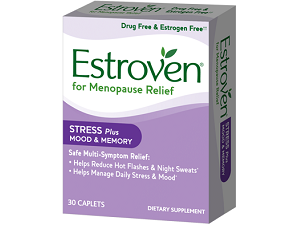 Product Claims of Estroven
Those experiencing symptoms of menopause don't have the cool to waste time or money on products that don't work effectively. This review examines the menopausal relief supplement, Estroven. Estroven promises to offer relief from common symptoms of menopause like hot flashes, night sweats, daily stress and can help manage mood and memory. Estroven prides itself in its key ingredients, Black Cohosh and Soy Isoflavones, that have been associated with hot flashes and night sweat relief. They also have several more ingredients that have benefits that support women's health.
Ingredients
Active Ingredients:
Calcium - 95 mg

Black Cohosh Root Extract - 40 mg

Soy Isoflavones - 56 mg

Ginkgo Biloba Leaf Extract - 120 mg

Magnolia Bark Extract - 15 mg
Inactive Ingredients: Microcrystalline cellulose, Stearic acid, Hydroxypropyl methylcellulose croscarmellose sodium, talc, silicon dioxide, medium chain triglycerides (safflower oil), magnesium stearate, vegetable juice (color), inulin, titanium dioxide (color)
Estroven's two primary ingredients, soy isoflavones, and black cohosh, are two ingredients with a history of offering relief for menopausal symptoms. Women have taken this soy as a natural solution for treating menopausal symptoms. Soybeans are rich sources of isoflavones that are vegetable substances and that can act on some of the same receptors as estrogen. Black Cohosh is a rich source of natural compounds that has been associated with reducing hot flashes and has been used across the world in its natural form to support women's general health. Estroven is transparent on their website that they do not use the highest purity Black Cohosh root of the Asian variety, rather their product is Cimicifuga racemose, the North American Herb, that does not have the same degree of purity or effectiveness. Magnolia bark is rich in phytochemicals honokiol and magnolol, which are believed to have the ability to alleviate and produce a calming effect.
Dosage Instructions
Estroven recommends taking one caplet daily. For optimal results, take for a minimum of 60 days. Do not consume if pregnant, trying to get pregnant or nursing. Estroven does not list any potential side effects, however, we found that consumers have reported experiencing mild side effects like upset stomach or throwing up and allergic reaction.
Cost and Guarantee
You can only buy this product in store or online through a third party retailer. We found Estroven sold online for $9.99 for one month's supply. We could not find a manufacturer's guarantee for this product. The price and guarantee will vary depending on the retailer where you buy from.
Summary Of Our Estroven Review
Estroven appears to be a credible product as it has a list of key ingredients that have been used for centuries in their raw forms to offer relief from common menopausal symptoms. However, while we appreciate Estroven's transparency, we are concerned to that they do not use the highest quality ingredients. Their price is fair but it may be because the consumer is paying for a lesser quality product. In our research, we also came across a multitude of complaints from consumers who had taken this product for an extended amount of time but felt no relief from the symptoms Estroven promises to relieve. With so many menopause relief supplements on the market that use the highest quality ingredients and are also offered at a reasonable price we cannot confidentiality say this product is one that is worth trying.
Top analysis brought to you from the Analyze That team.