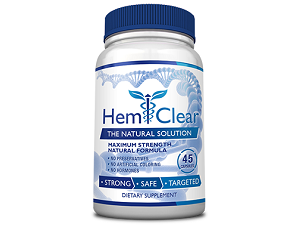 Product Claims of HemClear
This review will focus upon a product that is aimed to relieve hemorrhoid suffering and prevent new outbreaks - it's name is HemClear. This product provides a pure, natural way to alleviate suffering as well as improve vascular health to ensure prevention of future hemorrhoids. HemClear provides a two pronged approach to treatment by offering a cream and capsule option aimed at treating both internal and external hemorrhoids. It contains key ingredients that are backed by clinical studies and is produced in an FDA approved manufacturing facility. This product definitely caught our eye and we felt it was well worth digging deeper to discover more.
Ingredients
HemClear Capsules:
Witch Hazel

Ginger Root

Hesperidin

Oat Straw

Plantain

Rutin

Mullein Leaf

Red Root
This combination of all natural ingredients works to improve vascular health and increase blood flow. Also provides anti inflammatory properties as well as pain relief.
HemClear Cream:
Petrolatum

Anydrous Lanolin

Butcher's Broom

Glycerin

Oat Straw

Lidocaine HCL

Organic Marigold

Cetyl Alcohol

Bilberry

Ginger Root

Rutin

Clove Bud Oil

Hesperidin & Diosmin

Vitamin K-1
Designed to provide soothing relief for external hemorrhoids offering antiseptic, astringent and anti inflammatory benefit as well as pain relief.
There are no unnecessary ingredients, added binders, fillers, additives or preservatives. This is as natural as you can get.
Dosage Instructions
The manufacturers of HemClar suggest taking two capsules, three times a day (two in the morning, afternoon and evening). The cream should be applied 3-4 times per day for optimal effect.
Cost and Guarantee
The manufacturers of Hemclear provide a range of purchasing options that are easily available online. Hemorrhoid relief can often take time, it isn't an overnight fix so their buy 3 get 3 free Best Value package is a great start at an affordable budget. It can save consumers over $155, so is worth checking out.
They also offer flexible options to purchase the cream and capsules as packages together or individually, this is great news if you just want to buy one or the other. Single bottes start from $49.95 which is pretty much on par with other similar products on the market.
HemClear also provides a confident 60-day money back guarantee. This, we feel, always shows strong belief that the manufacturer holds in their product and the results that you will experience. If you are not happy with their product simply return all bottles/jars back to them and you will receive your money back.
Summary of Our HemClear Review
We felt that these guys had done their research when it came to making a good hemorrhoid treatment. The ingredients that they use are natural, pure and backed by clinical research. The fact that they manufacture in the US in an FDA approved facility is always a positive sign that the product is safe and efficient.
HemClear addresses both internal and external hemorrhoids, and offers a two pronged treatment by providing a cream and capsule options. We loved the flexibility of their variety of purchase programmes meaning that consumers can be in total control of buying exactly what they want.
We found many customer testimonials, the majority of which are very positive which is always a good sign. With a great guarantee from these guys and such positive feedback, you really have got nothing to lose. We would highly recommend this product.
If you are looking for a pure, natural, effective product to help treat your hemorrhoids, we think our review clearly demonstrates that HemClear is the best online option currently available on the market.
Top analysis brought to you from the Analyze That team.