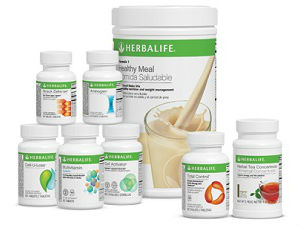 Herbalife Review
Here is our review for a product to help weight loss from a company called Herbalife. This product has been around for years and we wanted to give it a thorough analysis to see if Herbalife really works for weight loss. We were interested in this company, because of it's name and reputation. What we really wanted to know, however, is if Herbalife really works or not. So, we took a deeper look and found a multi-level marketing situation with good quality products. Herbalife has really made a name for itself as a company. They have built an international multi-level marketing business and the product is distributed by independent people.
There are millions of distributors in over 76 different countries. The company name being popular stems from top-quality marketing and sponsorship of fitness and athletics. They promote whole body health and healthy lifestyle management. The Herbalife Weight Management Program includes shakes, vitamins and snacks that you incorporate into your weight loss routine. The programs are designed around protein intake and "Cellular Nutrition," and they help you customize your diet for the most effective weight loss. The shakes contain added protein, vitamins and minerals over and above most diet shakes. They also have straight protein shakes to drink between meals to help reduce cravings and hunger. They also offer a whole line of supplements for your needs and healthy snacks.
Product Claims
Herbalife bases its claims on the fact that increase protein in the diet can accelerate weight loss. They offer the fact that this is proven in clinical research, which is true. They have engineered their line of weight loss products around the idea that if you increase the protein in your diet, you will crave fats and sugars less. The company also preaches whole body health and healthy lifestyle.
Nowhere on the website did we find any statements that led us to believe this product alone would induce weight loss. All over the website from the main page to the health articles, they offer information that is holistic and truthful. They let the consumer know right off the bat that you must include healthy foods, increased fluids and exercise as a part of their weight loss program. Good Job Herbalife! The only detail that needs to be exposed is that they do claim you need to buy all of the products as they are designed to work together. This could run into excessive expense since the products can be quite costly. Also, this is a multi-level marketing company and the basic intent is to get users to like the product and then sell it. You
Also, this is a multi-level marketing company and the basic intent is to get users to like the product and then sell it. You can, of course, buy the product all you want from an independent distributor but expect them to attempt to recruit you into sales offering discounts on the product.
Cost and Money-Back Guarantee
The Herbalife shakes average about $30 per can and provide around a 30-Day supply. The protein powder averages about $20 per can and will last up to a month or longer depending on how often you use it. The vitamin supplements range from about $15 to $30 per bottle depending on the supplement.
So, for about a month, you can spend about $75 to $100 or more. You can sometimes find these products sold directly on Amazon by independent distributors which may prevent the nightmare of someone trying to recruit you. Usually, recruitment happens by area distributors that invite you to their home for a "presentation" on sales for the company. But, shopping for things like these on the internet does not protect you and you may not be able to return the product for a refund. The company itself does offer a 30-Day Money Back Guarantee for a full refund. You can either contact your independent distributor or the company directly to return the product. Remember, if you did not go through an independent distributor, you may not be able to return the product to the company. Be wary of internet sales in this case.
Herbalife Final Review
Herbalife is a good sound company that makes good healthy products. The fall back is that it is multi-level marketing, so be careful of sales pitches to join the company and sell the product. You may be able to find an independent distributor that is understanding that all you want it to order and nothing more. Usually this is not the case. As for the weight loss program, the products are healthy and all-natural.
You can either choose to do only shakes or use them to supplement a healthy diet. The choice is entirely up to you and how much money you want to spend. Their weight loss program is designed to be self-tailored to your needs and choices and not at all strict, but effective.
Your Herbalife distributor can advise you of the different diet plans and teach you how to use the product. Be careful of any sales pitches here, however. The program can either be really expensive or very affordable depending on how much you decide to buy. If you do decide to sell the product, you will get full access to the training, diet classes and discounts on the product. If you do attain a healthy weight from the program, then you have the advantage of becoming your very own spokesperson. It could be a win-win situation in this case.
We truly believe Herbalife has great products and think the weight loss program can really work for you if you choose to make a commitment to healthy diet and lifestyle while using the products. Herbalife has been around long enough, we believe this company can be trusted to meet your needs.