iGlow Eyebrow Serum-Review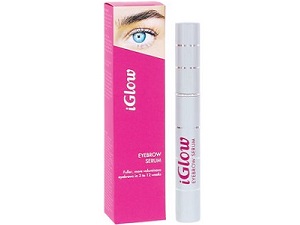 Product Claims of iGlow Eyebrow Serum
iGlow Eyebrow Serum claims to be a conditioning product that stimulates inactive hair follicles to rejuvenate brows. In doing so, the manufacturer claims that this product will deliver fuller and darker eyebrows. However, could this product be the best lash and brow serum available on the market? We examined various product aspects to determine the answer to help you make a wise purchase choice.
Ingredients
Glycerin
Biotin
Chamomilla Recutita (Chamomile)Flower Extract
Panax Ginseng Root Extract
Hydroxyethylcellulose
Ethylhexylglycerin
Triethanolamine
Sodium Benzoate
Glycerin is a hydrating and conditioning agent that supports the growth of hair while preventing breakage as a result of dryness. Biotin, otherwise known as Vitamin H, also supports the health of hair by preventing hair loss. Chamomile is an antibacterial and anti-inflammatory ingredient that protects hair from damage while invigorates hair growth. Ginseng supports hair growth while decreasing the rate of hair loss.
The formula has as many as 49 ingredients which include a few inactive ingredients, such as Hydroxyethylcellulose (a thickening agent) and Ethylhexylglycerin (a preservative). The product also has a few questionable ingredients, such as the preservative Sodium Benzoate and the fragrance ingredient Triethanolamine. Sodium Benzoate is a potentially carcinogenic ingredient while Triethanolamine is toxic and should not be used over a long-term period. Since the product required 12 weeks to showcase efficacy, this is highly concerning. Whatsmore, this formula is non-vegan because it contains Hydrolyzed Glycosaminoglycans and does not claim that it is cruelty-free, which is also a concern.
Instructions
The manufacturer offers clear instructions for use. Users should apply the iGlow Eyebrow Serum on the brows every morning and evening up to 12 weeks. The brows should be clean and free from makeup. Users should avoid eye contact and if redness and irritation occurs, stop using the serum. This product can also be used on hairless areas and lashes, using the applicator wand. The formula not only omits ingredient concentrations but the formula also lacks the support of patented ingredients. This, along with a large number of ingredients, makes us question the product's potency and efficacy.
Cost and Guarantee
Customers can purchase iGlow Eyebrow Serum from the manufcatuere's website for $ 67.47.  This price is relatively expensive in comparison to the market standard and is not justified, especially for its lack of patented ingredients. The manufacturer does not provide any discounts or bulk deals available for this product.  
The manufacturer offers a guarantee, however, they do not indicate important information such as the duration of the policy, the extent of the refund, or if partially used products apply. This policy is vague and way below the market standard. Whatsmore, there where insufficient customer reviews available on third-party sites to justify claims of efficacy.
Summary Of Our iGlow Eyebrow Serum Review
Although this product has a few ingredients that may prove beneficial, the formulas inclusion of potentially toxic and carcinogenic ingredients is a great concern. Furthermore, the products many inactive binders and fillers, as well as a lack of patented ingredients or ingredient concentrations, makes the formula's potency questionable. The price is expensive and the refund policy is vague. Furthermore, customer reviews on third-party and unbiased sites are absent.  For these reasons, we do not recommend iGlow Eyebrow Serum as a wise purchase choice. 
Top analysis brought to you from the Analyze That team.