Intramedics KetoneRX-Review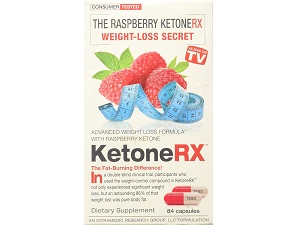 Product Claims of Intramedics Ketone RX
Today we are reviewing Intramedics Ketone RX which claims that participants who took place in a clinical trial lost significant amounts of weight. And it really is true that everyone is talking about Raspberry Ketones, and for a good reason.  There is a lot of evidence that they are a successful weight loss aid and can make the whole process a heck of a lot easier by taking Raspberry Ketones which allow the fat within cells to be broken to help the body burn fat faster.   
Ingredients
KetoneRX has a proprietary Ketone Blend containing 837 mg of the following:
Blood Orange (fruit) Extract

Grapefruit (fruit) Extract

Sweet Orange (fruit) Extract

Methylxanthine (from caffeine)

Guarana (fruit) Extract

Raspberry Ketone

Red Raspberry (seed) Powder
Other ingredients:  Gelatin, Rice Flour, Microcrystalline, Cellulose, Stearic Acid, Magnesium Stearate, Silicon Dioxide, Titanium Dioxide, Red #40, Blue #1.
With a proprietary blend of ingredients, we do not know the exact quantity of each ingredient.  Therefore it is impossible to understand the justification of this particular combination of ingredients even though these ingredients are known to help with weight loss and energy generally speaking.  Raspberry Ketone breaks down fat cells and regulates metabolism; Guarana is a stimulant; Methylxanthine contains caffeine.
Dosage Instructions
The directions for use are as follows:  take two capsules twice daily before meals with a full glass of water.  Do not exceed six capsules in a 24 hour period.
This product has approximately 150 milligrams of a stimulant called Xanthine.  Therefore you should not take this product if you are under 18 years of age, pregnant, or nursing. And since this supplement has caffeine, the manufacturer recommends that you limit the number of supplements, food, and beverage that have caffeine as excess stimulants may cause nervousness, irritability, sleeplessness, and a rapid heartbeat.
Cost and Guarantee
To purchase this product, you will want to do a thorough review of third-party websites and shops to get the best deal.  We found this product had a range of prices from $25 for 84 capsules which is super expensive to $8.52 which is a much more reasonable price.  But we found availability of this product to be not great.  And there is no satisfaction guarantee offered by the manufacturer so we advise you to be sure that this is the right product for you before making the purchase.
Summary of Our Intramedics KetoneRX Review
Manufactured in the United States, this supplement has easy to swallow capsules and you may be able to find a good deal on this product. Unfortunately, the availability of the product seems spotty and we were not able to find a lot of third-party outfits selling this product. And with no satisfaction guarantee, you will want to be sure it's the right choice for you. Specifically, consumer reviews were not convincing that taking the supplement had any effect at all on weight loss goals, and there is a lot of concern about the side effects from taking a product with large quantities of caffeine.  While it's true that everyone will have a different reaction to a supplement like this, you are advised to check around to look at the other Raspberry Ketone products on the market with positive reviews and some type of warranty that assures you that your satisfaction is valued by the manufacturer.
Top analysis brought to you from the Analyze That team.