Is Profollica Safe and Effective?-Review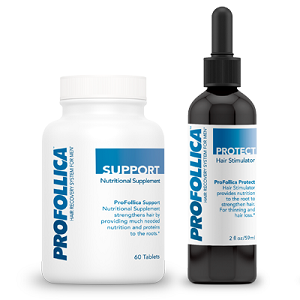 Profollica Review
Can Profollica Reverse Hair Loss?
It is difficult to tell you definitively if Profollica is effective or not. However, after reviewing a ton of information, we can tell you what you need to know so you know whether or not you want to use it.
What Is Profollica?
Profollica is a two-piece treatment program and it is supposed to reduce DHT levels, slowing down hair loss. There is a daily supplement and a gel that is used in the shower to work on the nutrients that are needed by hair for health and growth, as well as working on your body's DHT levels.
Your Treatment Options
The bigger, longer-tenured names in hair loss are pharmaceutical treatments, while smaller companies abound, not using prescription medicines in the making of their products. Rogaine and Propecia have been out for a while, and are the examples of pharmaceutical treatments. Prescription drugs can be risky, and the side effects that can come from these treatments are not fun, and often sexual in nature, such as erectile dysfunction and impotence. Consider potential side effects before choosing a drug-based product. Although it could be assumed that natural treatments are safer, it is still unknown if natural treatments like Profollica are as effective as the prescription drug treatments.
What Profollica Says It Does
Profollica touts itself as having the ability to help with your hair loss, from slowing it down to reversing it entirely. Supposedly, lower DHT levels will give you some improvement in your case. The topical gel that is used combined with the daily supplement is an effective pairing. Inside the supplement are nutrients, proteins, enzymes, and amino acids that are supposed to slow your DHT production. They also state that the supplement ingredients negate the effects of high stress, bad diet, depression, and that the supplement may prevent sickness. The gel serves as an activator, and is rubbed into the scalp after you shampoo your hair.
Is DHT A Cause Of Hair Loss?
Many products and companies believe that your thinning hair comes from DHT levels being too high. There are other causes for hair loss, chiefly genetics, but other factors play into this. Diet and lifestyle can be a determining factor. DHT is not the only known or suspected cause.
How Much Is Profollica?
1-month supply of Profollica will set you back $80. You will save if you buy a 6-month supply instead, which works out to about $50 per month. Profollica offers a 60-day money back guarantee if you cannot see results in 60 days.
Customer Feedback
You can dismiss most review sites for Profollica, as reviews featured on the company's website as well as other sites that are possibly managed by UNICO, show an unfair view of the product. All the testimonials shown are the type that you would hear called rave reviews. Getting honest info about Profollica's effectiveness and its ingredients is difficult to find. An honest review site would be one that has a mixture of both positive and negative reviews. Negative reviews come from a variety of reasons, mostly that expected results were not gained. Of course, lack of results does not necessarily indicate ineffectiveness of product. Human error in following instructions can sometimes play a part. In addition, it should be remembered that everyone is different, so not everyone will respond the same to a certain treatment.
A Doctor's Testimony
Alleged physician and researcher Dr. Alexis Vasquez calls male pattern baldness alopecia. This is a mix-up somewhat as alopecia covers all of hair loss. The scientific/medical name for male pattern baldness is called androgenic alopecia. Dr. Vasquez does not seem to have much credibility when you point out this error he made.
Ending Assessment
Profollica seems like it has done an effective job in creating a good product. It uses a two-part treatment system, designed to provide effects both internally and externally. There are no over-hyped statements about results, and their 60-day guarantee shows confidence that results will be visible at least within that period.
Should You Try Profollica?
Natural hair loss treatments will always be recommended over chemical ones, the lack of side effects in natural solutions being the main reason. We do not place our full confidence in Profollica, however. DHT inhibition is its focus, and it is certain that promoters of Profollica have been paid to talk up their product. You do not stand to lose very much because of their 60-day guarantee, so if you try it for yourself and do not like it or do not see results, then all you have to do is pay the shipping costs to send it back and get your refund. All we can say for sure is try it for yourself, allowing the 60 days of trial, and be honest in your own effort, following the instructions explicitly and not expecting drastic results in a short period of time.
Top analysis brought to you from the Analyze That team.