Life Extension NitroVasc with Cordiart-Review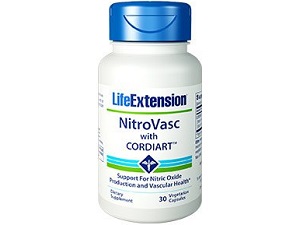 Product Claims of Life Extension NitroVasc with Cordiart
This review is going to take a closer look at Life Extension NitroVasc Cordiart to learn more about how it works and to see if it is worth trying out. This dietary supplement is made up from an active key ingredient, Cordiart, which is a strong antioxidant that works by specifically targeting your cardiovascular system and is believed to prevent arteries from narrowing. The manufacturer claims that NitroVasc can activate endothelial production of Nitric Oxide which will then signal smooth muscles to relax and induce vasodilation that will result in healthy circulation.
Ingredients
The only active ingredient in this supplement is Cordiart flavonoid glycoside. Every capsule contains a 500 mg dosage and is enclosed in a vegetarian capsule. Flavonoids are believed to work by protecting the bioactivity of the endothelium-derived Nitric Oxide and can prevent inflammation and overproduction of Nitric Oxide. This can result in enhanced levels of Nitric Oxide which increases the blood flow to your muscles which causes them to relax. Cordiart is rich in antioxidants and is therefore believed to be able to be beneficial for heart health. The antioxidants target the heart and cardiovascular system which can help prevent the narrowing of arteries and other blood vessels. The Cordiart in this supplement is extracted from orange peels.
Dosage Instructions
The manufacturer recommends taking one capsule daily, with or without food or as otherwise recommended by your doctor.
If you are pregnant, nursing or under medical supervision, you should talk to your doctor before taking this or any other supplement.
Cost and Guarantee
You can purchase one 30 capsule bottle of NitroVasc on the manufacturer's website for $13.50. They offer one bulk purchasing option. If you buy four bottles the price is reduced to $12.00 per bottle.
Life Extension offers a full year money back guarantee. They do not say if their policy includes opened bottles. We recommend contacting their customer service to inquire about their up to date return policy, should you choose to move forward with this product.
Summary Of Our Life Extension NitroVasc with Cordiart Review
NitroVasc with Cordiart appears to be a decent Nitric Oxide supplement. It is made up from an active ingredient that has been shown to boost your body's Nitric Oxide production and it comes in easy to take capsules for convenience. However, we always turn to consumer feedback when researching a product to see if a product has generally worked for verified consumers who have tried it. We were unable to find any consumer reviews on this product on any forum even though Life Extension has an entire section of their webpage dedicated to consumer reviews. This suggests to us that this supplement is not well known or a popular choice in the Nitric Oxide market. Without consumer reviews, there is no way for us to know if this is a supplement that has had positive results for real consumers. Furthermore, this supplement only contains one active ingredient which we have never seen before in a Nitric Oxide supplement and makes us question whether or not it is enough for this supplement to be effective. Choosing this supplement is risky. You are better off choosing a supplement that has positive consumer reviews that speak to the integrity of the product and one that has positive consumer reviews.
Top analysis brought to you from the Analyze That team.