Monistat Complete Therapy Less Mess Ovule-Review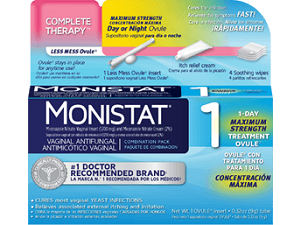 Product Claims of Monistat Complete Therapy Less Mess Ovule?
There is no woman who would shout out in glee about having a yeast infection.  It is truly the pits.  And so today we are reviewing Monistat Complete Therapy Less Mess Ovule, a very well known product that both treats yeast infections and the itching, irritation, pain, and soreness. There are many different Monistat product packs which makes it convenient to purchase the one that you think suits your particular situation.  Our review is for the 1-day treatment plan which comes with the following items:  a less mess ovule insert, itch relief cream, and cool wipe pads. Monistat also provides 3 and 7-day treatment plans with varying strengths.
Ingredients
Active Ingredients:
The active ingredient in the vaginal insert is 1200 mg of Miconazole Nitrate and 2% Miconazole Nitrate in the external cream.
The inactive ingredients in the vaginal insert are Gelatin, Glycerin, Lecithin, Mineral Oil, Titanium Dioxide, and White Petrolatum.
The inactive ingredients in the external cream are Benzoic Acid, Cetyl Alcohol, Isopropyl Myristate, Polysorbate 60, Potassium Hydroxide, Propylene Glycol, Purified Water, and Stearyl Alcohol.
The inactive ingredients in the soothing wipes are Water, Propylene Glycol, Aloe Barbadensis Leaf Juice, Tocopheryl Acetate, PEG-75 Lanolin, Disodium Cocoamphodiacetate, Polysorbate 20, Fragrance, Citric Acid, Disodium Phosphate, Disodium EDTA, 2-Bromo-2-Nitropropane-1, 3-diol, and Iodopropynyl Butylcarbamate.
Dosage Instructions
There are a number of steps outlined for using this product.  The first step is to take the vaginal application and place it in the vagina; discard the applicator afterward.  The second step is to take a small amount of cream on your fingertips and apply it to any areas that are itchy or may be irritated outside the vagina. You can apply this two times a day for up to seven days as needed. The final step is to use the wipes to refresh the infected areas.  Each wipe should be used only once and should be thrown away afterward.
During this entire period, you are advised not to use tampons, douches, spermicides and other vaginal products and vaginal intercourse should be avoided.  
Cost and Guarantee
This product can be purchased by third-party retailers both in stores and online.  The manufacturer provides a printable coupon to bring to stores for purchasing.  And online, you can purchase this product for $14.89, but we encourage you to do your consumer shopping to get the best prices and deals.  
There is surprisingly no satisfaction guarantee offered by the manufacturer though you may be eligible for a refund from a retailer depending on the company's refund policy.
Summary of Our Monistat Complete Therapy Less Mess Ovule Review
Monistat has been around for a long time and the company name carries a kind of assurance that comes with being a solid product that relieves the symptoms of yeast infections.  And though Monistat may temporarily clear up a yeast infection and give you the relief that you need short-term, the bigger question is how women can address the fact that yeast infections may return over and over again. And to that end, there are many supplements that utilize a combination of at least 5 strains of probiotic bacteria including Lactobacillus Acidophilus that combined with key vitamins like B and C to balancing alkaline and pH levels so that candida cannot grow and multiply.  Most women who suffer from yeast infections need a long-lasting solution rather than a just a fix for the yeast infection at hand. And thankfully, there are well-reputed products at attractive prices that come with a manufacturer's assurance that it is a solution for yeast well worth considering.
Top analysis brought to you from the Analyze That team.