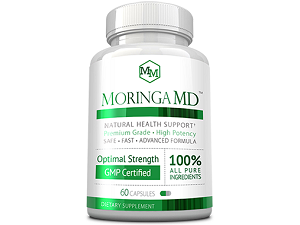 Product Claims of Moringa MD
Moringa Oleifera is a fast-growing tree native to South Asia, that can now be found throughout the tropics. The leaves have been used as part of traditional medicine for centuries. Many supplements that claim to contain Moringa extract are not pure and contain additives and other fillers. In this review of Moringa MD, we will go over the ingredients and benefits of taking a moringa supplement for weight loss. Moringa MD has many benefits including, breaking down fat, boosting metabolism, controlling food cravings and regulating blood sugar. This unique blend of 100% pure moringa is of the highest quality and will leave you feeling calmer, more controlled and energized throughout the day.
Ingredients
These capsules contain 100% pure Moringa Oleifera. They are clinically proven to suppress appetite and aid in weight loss. The Moringa Oleifera tree is known for its many nutritional wonders. Additionally, this product contains zero artificial coloring, preservatives, and hormones. It is also a completely vegetarian capsule.
Dosage Instructions
The recommended dosage is two capsules daily. You can take these at the same time, or if you prefer, one in the morning and one in the evening. There are 30 servings per bottle. The bottle contains 60 capsules in total.
Cost and Guarantee
This is where Moringa MD really stands out as they provide a full 60-day money back guarantee. This shows that the company is confident in their product. Consumers can return opened and unopened bottles and will get their money back no questions asked.
You can also purchase different sized packs to suit your needs. The starter pack comes with two bottles and costs $34.95 per bottle. The intermediate package comes with four bottles and costs $27.95 each. The best value is the 6-month pack with each bottle costing $23.30. You can easily make an online purchase from the Moringa MD website.
Summary of Our Moringa MD Review
To sum up, we have discovered through our research the incredible benefits of Moringa Oleifera. The Moringa MD company provides their customers with excellent customer service and a pure 100% natural product, with no other additives, fillers or artificial ingredients. The nutritional and weight loss benefits associated with Moringa MD seem to be unmatched by anything else out there on the market. Moringa will slow down the release of sugar into the bloodstream which inhibits the formation of fat. It will also help suppress appetite and provide you with many vitamins and nutrients that are found in Moringa extract for a balanced and healthy mind and body. You can also purchase a large amount of Moringa MD with no risk, as the company offers a full 60-day money back guarantee, no questions asked. This gives you the confidence that they are a very reputable company who care about their customers.
Top analysis brought to you from the Analyze That team.