Mt. Angel Vitamins' Go-Out Plex-Review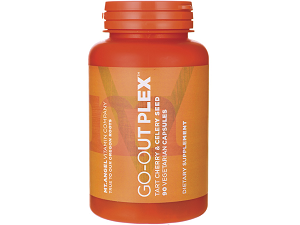 Product Claims of Mt. Angel Vitamins' Go-Out Plex
Mt. Angel Vitamins' Go-Out Plex promotes its unique blend of herbs, together with bromelain, as "joint support", and that's about as far as product claims go when looking at the product's webpage. The product's Amazon page goes a little farther claiming that the product is aimed at reducing pain and inflammation and supporting circulatory health, especially in the extremities. While the product name comes tantalizingly close to associating the product with Gout relief, it seems the manufacturer has gone to great pains (pardon the expression) to make sure the work "gout" does not appear in product literature. So, what exactly is Go-Out Plex and is it for you? Read our review below for details.
Ingredients
Potassium (citrate), 50mg
Celery Seed Extract, 800mg
Tart Cherry 4:1 Fruit Extract, 100mg
Bromelain 1200 GDU/g, 100mg
Turmeric Root, 100mg
Black Cherry 20:1 Fruit Extract, 50mg
Other ingredients include: Vegetable cellulose, organic rice concentrate and organic rice extract.
Quantities are per two-capsule serving.
The formula includes herbs that are often seen in natural products for joint relief, and even includes tart cherry extract for (don't tell them we said it) gout relief. Bromelain has been shown in in several studies to help reduce joint inflammation and pain. Regarding celery seed extract there have been human studies that indicate it helps relieve joint pain but likely more research is needed to know with more certainty.
Dosage Instructions
One capsule should be taken twice a day with meals. Women who are pregnant or nursing should not take this product.
Cost and Guarantee
Go-Out Plex is offered for purchase on the manufacturer's website for $24.41 instead of its original price of $27.12. However, on Amazon you could buy it for $19.07 at the time of our review.
There is no information on the product website regarding a refund policy.
Summary of our Mt. Angel Vitamins' Go-Out Plex Review
Mt. Angel Vitamins' Go-Out Plex has a simple motto: to use its unique blend of herbs and bromelain for "joint support". It contains what looks to be a promising mix of natural ingredients to help reduce joint pain and inflammation. And its Amazon customer ratings are impressive with a high percentage of positive scores and a very low percentage of negative scores.
We do find it of concern that the manufacturer does not offer a return/refund policy, in contrast to many other products in this category. This prevents potential new customers from trying it without financial risk. In addition, the product website is spartan when it comes to product information, missing out such standard attributes as dosage and how long it should take to start seeing results. And while the product name seems to hint at the product being marketed to gout sufferers, nowhere does the product literature say so explicitly.
There are many versions of joint health products that offer multiple ingredients formulated to relieve pain and stiffness, with key anti-inflammatory agents that lubricate the joints and rebuild the cartilage. Moreover, they offer a variety of packages and plans, a strong refund policy and detailed product information. You may want to look further for such products.