Native Remedies Gout-Gone-Review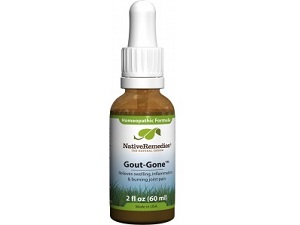 Product Claims of Native Remedies Gout-Gone
In this Native Remedies Gout-Gone review, we take an in-depth look at this gout relief formula. The formula claims to help treat gout and all of the symptoms attributed to the condition. It has anti-inflammation properties that should help in giving relief to chronic pain, redness, and swelling. It also claims to help lower uric acid levels in the blood significantly. Native Remedies Gout-Gone is said to be quite effective in treating gout in the toes and other small joints in the lower extremities. Our full review below should offer you more detail about this gout relief formula.
Ingredients
Antimonium crud 6C HPUS
Benzoic ac 6C HPUS
Ledum 6c HPUS
Quercus 12c HPUS
Rhododendron 6C HPUS
Silicea 6X HPUS
Native Remedies Gout-Gone claims to use a homeopathic method when it comes to delivering results. As such, all ingredients used are known official homeopathic ingredients. For those unfamiliar with these ingredients, here is a rundown of their benefits. Antimonium is used to treat pain in the fingers and heels as well as any gastric symptoms. The rest of the ingredients are used in treating gout and will target symptoms such as inflammation and high uric acid levels.
Dosage Instructions
This product comes in liquid form that you take as drops either directly into the mouth or by mixing it with a little water. When experiencing symptoms, take a dosage of 0.50 ml every 30 minutes until symptoms subside. The maintenance dosage for Native Remedies Gout-Gone is 0.25 ml 3 to 5 times a day. Pregnant and breastfeeding mothers should first consult with a health professional before taking this formula.
Cost and Guarantee
Native Remedies Gout-Gone is currently priced at $39.95 per 60 ml bottle. This is enough for a month or two of use, depending on your use. It is available via their official website. You can also get a special 10% discount and free shipping once you register to the auto-shipping program and then this product will be delivered to you every 2, 4, 6, or 8 weeks depending on your preference. There is also a special offer running where you can buy two bottles and get a third bottle for free.
Native Remedies Gout-Gone comes with a one-year money back guarantee. They do have a condition that customers should first try the product out for 30 days before requesting a refund. This practically shows customers how confident the manufacturer is with their product. 30 days should be enough to let you know whether Native Remedies Gout-Gone delivers on its promise of gout relief.
Summary of Our Native Remedies Gout-Gone Review
While the one-year money back guarantee is a great inclusion to this product, we have some concern with the ingredients. The ingredients are not exactly known and deviate from common gout treatment relief ingredients. We are not confident that this product can deliver a side effect free experience. We should also note that the product currently has very mixed to negative customer feedback on Amazon. With that, we would advise interested customers to look for other options when it comes to gout treatment products.
Top analysis brought to you from the Analyze That team.