Nature's Bounty Complete Menopause Support Complex-Review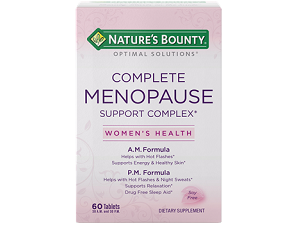 Product Claims of Nature's Bounty Complete Menopause Support Complex
The following is a review of Nature's Bounty Complete Menopause Support Complex. This product claims to be one of the leading and most popular formulas made to specifically target symptoms associated with menopause. It is a two-part formula that treats symptoms during the day (AM) and night (PM) because each time of the day generally has different symptoms.
Ingredients
The AM formula contains:
Calcium
Biotin
Black Cohosh Extract
The PM formula contains:
Calcium
Valerian Extract
Hops Flower Extract
Black Cohosh
L. Theanine
Melatonin
Calcium supports bone and teeth health. The AM formula contains biotin that supports healthy skin, hair and nails and supplies energy. Black cohosh helps manage hot flashes during the day and night sweats during the night. The PM formula contains valerian extract that treats insomnia and restlessness. L. Theanine is included in the PM formula and this induces relaxation without drowsiness. Melatonin promotes rest and relaxation. This product has a long list of inactive ingredients.
Dosage Instructions
This should be only be used by adult women. It is recommended that you take two tablets per day. Be sure to take one AM tablet in the morning and one PM tablet before going to bed since it treats specific symptoms at different times of the day and the PM tablet may result in drowsiness. However, it important that you limit use to two months with a break of one week. Be sure to strictly follow the directions before using this product and you should consult your doctor before using this or any other product.
Cost and Guarantee
This product is not sold directly from the manufacturer, however, they have provided a list of retailers and the price from each. This product averages about $14 for a pack of 60 tablets - a month's supply. However, it does not come with a money-back guarantee and this may be a cause for concern for users because in the event that you are dissatisfied with the purchase, then you will not be able to get a refund. It is important to note that products that do not come with a money-back guarantee should be eyed with caution because it might be an indication that the product could be below par and the manufacturer is reluctant to express their confidence.
Summary of Our Nature's Bounty Complete Menopause Support Complex Review
This product seems to be a good product that effectively treats the symptoms of menopause. It comes with a dual system formula that specifically treats morning and evening symptoms. This makes it a very good product because it treats the symptoms in stages instead of using a single non-specialized dosage.
However, this product does not appear to have a money-back guarantee and this could be a major drawback for prospective buyers because it does not offer any kind of recourse if you are not satisfied with the product. It may also be an indication that this product may not be as effective as other products that treat similar symptoms. Additionally, while this product prominently lists its natural ingredients, it comes with a great number of chemicals and preservatives. There is also only one review on the manufacture's website, giving it a 3 out of 5 stars. This may indicate that it is not such a popular product.
Top analysis brought to you from the Analyze That team.