Nature's Way Silent Night Sleep Formula-Review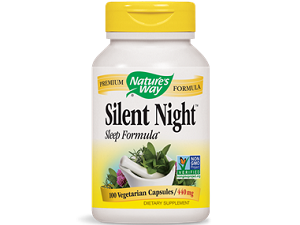 Product Claims of Silent Night
This review of Silent Night Sleep Formula examines the no-sugar-added vegetarian capsule formula that is this product, which aims to relax the nervous system and promote a restful night's sleep. The product does not carry set-in-stone promises of sleep or insomnia riddance but does nonetheless assert being able to support or facilitate the sleep process.  
Insomnia is a terrible affliction. Over the long term it can lead to restlessness, general irritability and lack of productivity.
Silent Night is a herbal supplement and not a pharmaceutical drug.
Ingredients
Hops (flower)
Valerian (root)
Lemon Balm (leaf)
The product is herbal, plant-derived, wheat-, gluten- and preservative free. It also contains no artificial coloring, artificial flavoring, corn, dairy products,  salt, soy or sugar. This makes it safe to use on a calorie restricted diet. Valerian root is a well-known natural sleep remedy and calming agent. The female flowers of the Humulus lupulus L. plant, hops, are said to be an aid in treating a range of ailments from arthritis, fibromyalgia and insomnia, to diabetes and some symptoms of menopause. Lemon balm has many benefits, one of which is a reduction in anxiety. However, it specifically has to be the Cyracos product, and this isn't verified in this product. Lemon balm is also linked to improved length and quality of sleep.
It also has many side effects, some of which are an increase in appetite, dizzines, wheezing, nausea, vomiting and abdominal pain. It is only considered 'possibly' safe when taken in medicinal amounts, and should not be used for longer than four months.
Dosage Instructions
Four capsules should be taken 60 minutes prior to getting into bed. Do not exceed the recommended dose. You should see a doctor if you still cannot sleep for more than 2 weeks. If you are pregnant, breastfeeding or taking sedatives, tranquilizers or any medications, you should consult a medical professional first. Do not consume alcohol with this product. Do not operate heavy machinery or drive after taking Silent Night.
Cost and Guarantee
Silent night can be bought online from various retailers and Amazon. It is not available on the product website. On Amazon the product sell for 13.97 for 100 capsules, or a 25-day supply. We couldn't find any guarantees attached to the product.
Summary Of Our Silent Night Review
The all natural formulation is a welcome addition to the stable of products used to fight insomnia as it is one of the few that is gluten-, corn-, preservative, wheat-, GMO- and sugar free. The combination of the two most powerful herb sleep aids should work, although some people may experience Lemon Balm side effects as described in our Ingredients section.
The product garners good consumer reviews in just under 50% of cases. Consumers complain of the taste and headaches the morning after. Some people also find four capsules hard to swallow. It is not a one-stop solution for everybody as brain chemistry differs from person to person. Given that the product is cost effective, one would have expected to see that more than 50% of people rate it highly. The lack of any kind of apparent guarantee at the time of this review is concerning.
Top analysis brought to you from the Analyze That team.