NMX Wellness Innovations' Cosamin DS-Review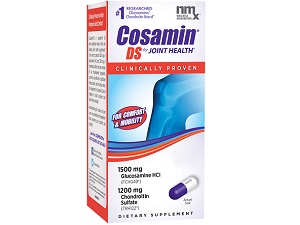 Product Claims of NMX Wellness Innovations' Cosamin DS
NMW Wellness Innovations' Cosamin DS claims to help promote joint mobility and comfort by impeding enzymes involved in the breakdown of cartilage. The formula, based on glucosamine and chondroitin, is not particularly unique in the joint relief market. Does Cosamin DS stand out from its competitors? Read our review below to find out more.
Ingredients
Sodium, 105mg
Vitamin C, 6 mg
Manganese, 1mg
Glucosamine HCL, 1.5g, derived from crab and shrimp
Sodium Chondroitin Sulfate, 1.2g
Other ingredients include: Gelatin, magnesium stearate, titanium dioxide (capsule color), red 3 and blue 1.
While the formula does include glucosamine and chondroitin that components of normal cartilage, it is missing some key anti-inflammatory agents that support healthy cellular regeneration, like Turmeric, basil, ginger, boswellia and others.
Dosage Instructions
Adults should take 3 capsules daily until the joints are at the sought after level of comfort. Number of capsules can be reduced gradually to maintain comfort level.
Cost and Guarantee
Cosamin DS is not sold directly via the manufacturer's website but rather by clicking on the "buy now" button. At the time we wrote this review the Nutramax website made Cosamin available for purchase at $46.95 for a box of 108 capsules. A box of the 230 capsules (about a 2.5 month supply) was available for $58.99 on Amazon.com.
The manufacturer does not provide a money-back guarantee. While this is not unusual for companies that don't sell directly to consumers, it does force customers to look for a retailer that provides a customer-friendly return policy. The lack of a company-based guarantee also does not instill confidence in the product, as it can be interpreted as the company itself not believing in the efficacy of its own product.
Summary of our NMX Wellness Innovations' Cosamin DS Review
Cosamin DS by NMW Wellness Innovations has the right track with the main ingredients in its formula. And its Amazon customer review ratings (from over 300 reviews at the time of writing) indicate that it is a well-regarded product by those who use it.
However there are some drawbacks to this product. First, the formula misses what could be key components that help replenish the body. Second, the dosage instructions are somewhat ambiguous and rely on the subjective feeling of the user. Third, the lack of a company-backed return/refund policy is a shortfall compared to many of its competitors' products. This problem is compounded by the relatively high price of the product. If you can afford the price and don't mind looking for a retailer that provides a useful return/refund policy this could be a product to consider. Otherwise, we would recommend looking for a less expensive offering with a company-backed return policy.