Nutra Beauty Nutrition Forskolin Extract-Review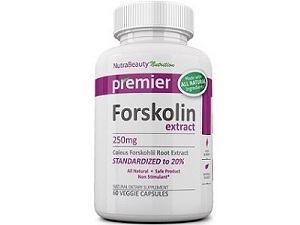 Product Claims of Forskolin Extract
This review for Forskolin Extract Pure looks at all the facts about this product. This supplement claims to help assist with the breakdown of stored fats and fat cells that may result in boosting weight loss. It also claims to release fatty acids to result in the loss of body fat while increasing lean body mass. This product also claims to contain no allergens such as milk, soy, eggs, peanuts, wheat and shellfish making it a safe supplement should you suffer from allergies.
Ingredients
Pure forskolin Coleus Forskohlii Extract – 250mg
Forskolin is mainly used to treat heart conditions such as high blood pressure and chest pains. It may also be beneficial for problems such as asthma. Some research suggests that it may be beneficial for weight loss and obesity and also seems to have a vast amount of health benefits. This ingredient works by increasing your heartbeat and helping to widen blood vessels which may lower blood pressure.
Dosage Instructions
The recommended dosage of the supplement is one Veggie capsule twice a day and is also suggested that it should be taken with 8oz of water or as described by your healthcare professional. From our research the dosage is at a right amount to consume for a person on 2000 calorie diet, however; It might be too high for an individual that is eating less than that.
Cost and Guarantee
This product can be purchased online directly from the manufacturer's website and will cost you $9.95 for a bottle that contains 60 capsules. They also have some discount options available on bulk purchases such as two bottles for $24.95, three bottles for $29.95 and four bottles for $36.95. The manufacturer does seem to offer a money back guarantee within 30 days of purchase should you not be satisfied with the results of this product, however; they do not refund any shipping or handling costs involved.
Summary of Our Forskolin Extract Pure Coleus Forskohlii Review
This product does seem to have some positive factors considering it is a relatively cost-effective product and it is also pleasing that there is a money back guarantee available from the manufacturer. It is, however, somewhat concerning that there are no customer reviews available on the manufacturer's website that could create a social assurance that this product would be a good choice. This product does have a good ingredient list and it is allergen free, although this product does not seem to stand out in any way compared to other similar products. Based on this product only being suitable for individuals who consume 2000 calories per day, this supplement may not be suitable for everyone.
Top analysis brought to you from the Analyze That team.