Phytoceramides Premium-Review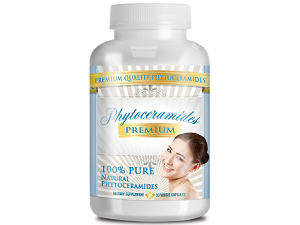 Product Claims of Phytoceramides Premium
This review explores the Phytoceramides Premium, a nutritional supplement that the manufacturer claims helps erase lines on your skin while repairing and moisturizing it. There have been many trials using phytoceramides as a skin care supplement. The claims are that it can rejuvenate the skin so much it acts like an at-home facelift. Beware, however, as many manufacturers have created products containing ingredients that are unnatural and that can even be dangerous to skin health. This is why we recommend Phytoceramides Premium if you are looking for safe results. Take a look below at our research on this product.
Ingredients
Vitamin A - 5000IU
Vitamin C - 60mg
Vitamin D - 400IU
Vitamin E - 30IU
Phytoceramides (from wheat) - 350mg
Other ingredients include a 100% vegetarian capsule
Much research has been done on the effects of Phytoceramides on the skin. As the skin ages, it loses natural lipids causing wrinkles and age spots. However, Phytoceramides, which are plant-derived ceramides, have been shown to rejuvenate skin from the in side, where creams cannot. By restoring ceramides in the skin, it repairs the elastin which contributes to skin flexibility and decreased wrinkling.
Phytoceramides Premium brings you this powerful plant but also includes vitamins A, C, D and E for fighting wrinkles and fine lines. It is cGMP certified and has no additional ingredients.
Dosage Instructions
As a dietary supplement, adults should take one capsule daily before meals, with water. It is important to check with your doctor if you are pregnant, breastfeeding, under the legal age of 18 or already have a medical condition, before starting to take this supplement.
Cost and Guarantee
Phytoceramides Premium is available for purchase from the product website. A one-month supply is $48. You can save $113 if you buy a three-month supply for $30 per bottle. If you purchase a four-month supply, you save $160 as each bottle will be $28. The top-selling package is a six-month supply for $23 per bottle, saving you $270 total.
The guarantee/refund policy is generous providing a three-month risk free trial or your money back. This effectively enables you to try the product and assess the results without risking your money.
Summary of our Phytoceramides Premium Review
After researching other products in this category, in addition to Phytoceramides Premium, we believe the latter to be a top skin health product. Phytoceramides Premium includes only natural ingredients and the exact amount of Phytoceramides needed to increase the ceramides in the skin, fight wrinkles and promote skin elasticity. The vitamins are an added bonus to the health and well-being of the individual using these capsules. There is no risk in taking advantage of the discounted per-unit price that comes with bulk purchases given the extended money-back guarantee which gives you time to test this product. And the fact that it is manufactured in the USA in an FDA-registered facility under cGMP standards means you can be confident in the quality of the final product. We feel confident in recommending Phytoceramides Premium.