Phytozine Anti-fungal Ringworm Cream-Review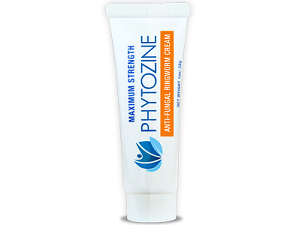 Product Claims of Phytozine Anti-fungal Ringworm Cream
This is a review of the product Anti-fungal Ringworm Cream, manufactured by Phytozine. The claim is that their topical ointment cures and eradicates ringworm infections. The product does not only eliminate ringworm ─ it also kills all fungal infections, removing the itching that ringworm causes. Keep reading this review to learn more about this product.
Ingredients
There is only one active ingredient, namely tolnaftate. The formula also contains various oils and minerals, for instance, lavender oil, tea tree oil, camphor, in addition to aloe barbadensis leaf juice. That said, this product's formula lacks the clinically proven ingredient undecylenic acid, known to be effective in exterminating fungal infections. More so, it is best too look out for a formula that contains at least 25% undecylenic acid for the best results.
Dosage Instructions
The manufacturer that makes this ringworm treatment product suggests that this product be massaged into the affected area twice daily, after cleaning and drying it. Once the product has been applied, the affected area should be left to dry for three to four minutes. During this time the cream ought to be absorbed into the skin. Thereafter, clothes may be donned.
Cost and Guarantee
This ringworm product is available online, directly from the manufacturer's own website. A month's supply, available in a tube, costs $39.95. The company that manufacturer's this ringworm treatment does offer package deals. A three-months supply costs $79.90; a five-month's supply costs $119.85. There is a manufacturer's guarantee. Consumers dissatisfied with this product can return it within 60 days for a refund, excluding the shipping fee.
Summary Of Our Phytozine Anti-fungal Ringworm Cream Review
This ringworm product seems promising. It comes with a 60-day money-back guarantee, so that those consumers who find no benefit, may claim a refund. The package deals allow the consumer to save money in the long run. There are also some negative aspects. First, the product's formula lacks one of the best natural ingredients against fungal infections, namely, undecylenic acid. Not only is this ingredient effective, it produces speedy results. However, this ingredient is not part of the product. This is a concern: ringworm sores are not only itchy and unsightly, they may be painful and lead to severe scarring if not treated properly and promptly. Second, this product is not produced in a cGMP certified factory. Had this been the case, the product ingredients would be guaranteed to match the label 100%; however, this product is not GMP certified. Third, even though there is a guarantee, the consumer will need to pay the shipping fee to receive the product, and to return it if defective. To conclude, with so many similar products on the market offering better ingredients, and faster results, this product does not hold up to comparison. Good points to look out for is transparency, clear dosage instructions, quality ingredients that are proven to be effective, products that are safe for the end user and products that come with incentives such as discounts and package deals.
Top analysis brought to you from the Analyze That team.