Relief Factor Quickstart-Review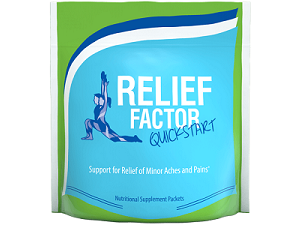 Product Claims of Relief Factor Quickstart
Relief Factor Quickstart is designed to help relieve symptoms of joint inflammation and muscle pain. This supplement focuses on assisting the body fight off inflammation. Inflammation in the joints can be caused by several reasons, but the remedy is usually the same. Relief Factor Quickstart has been used by patients who suffer from chronic pain due to injury. Its potent ingredients claim to help alleviate the pain and reduce inflammation rather quickly, as the name of the supplement implies. How good is Relief Factor Quickstart when compared to other anti-inflammation and joint support supplements on the market? Read our full review to find out.
Ingredients
This product is composed of two parts; a capsule and a softgel.
The ingredients in the capsule are:
Turmeric (standardized to 18% curcuminoids) - 667mg
Japanese Fleeceflower Root (standardized to 96& Resveratrol) - 70mg
Epimedium (standardized to 20% Icariin) - 200mg
The ingredients in the softgel:
Fish Oil - 1,400mg
EPA - 647mg
DHA - 253mg
Omega-3 is an essential fatty acid that offers several health benefits. Not only can it help stem joint inflammation, it is also good for the heart and brain. The other ingredients are also well-known in the field of medicine. Curcuminoids are powerful anti-inflammation compounds while resveratrol offers high levels of antioxidants to help flush out free radicals.
Dosage Instructions
The recommended dosage will depend on the severity of your pain. To start, it is recommended to take three packets a day. Each packet consists of two capsules and two softgels. That means 12 tablets a day! For severe pain, it is recommended to take 4 packets a day. For maintenance, it is recommended to take 2-3 packets a day or go according to the recommendations of your doctor.
It is also important for individuals who have allergic reactions to seafood and shellfish to avoid taking this supplement. Individuals who have pre-existing medical conditions should also consult with their doctor first.
Cost and Guarantee
Relief Factor Quickstart is actually quite expensive. The first order of this supplement will only cost $19.95 plus shipping and handling but that's because you only get the trial pack (a 3-week supply). The actual 60-packet package is priced at $79.95 plus shipping fees. This uses the auto-shipping program so be sure to cancel your subscription if you plan to discontinue use after the trial period. There are no special discounts for this product as it uses an auto-ship plan.
Relief Factor Quickstart comes with a 90-day money-back guarantee. Return shipping fees will be shouldered by the customer. Customers who purchased the product through the manufacturer's official website or through their official phone hotline are the only one's eligible to return opened bottles.
Summary of Our Relief Factor Quickstart Review
Relief Factor Quickstart has pretty solid customer feedback online. It utilizes all natural ingredients without any side effects. However, the number of tablets you are required to take a day can be quite bothersome, particularly if you have a hard time swallowing tablets. The price for this supplement is also very high, and you have to read the small print to realize you will be signing up to an auto-ship program when you buy the product. There are other joint relief supplements on the market that offer almost the same or equal results at a much lower price.
Top analysis brought to you from the Analyze That team.