Reserveage Nutrition Beautiful Legs-Review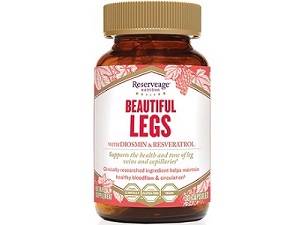 Product Claims of Reserveage Nutrition Beautiful Legs
Today we review a product called Beautiful Legs, a dietary supplement manufactured by Reserveage Nutrition. The manufacturers claim to have filled each capsule with Diosmin and Resveratrol, which are intended to help support the health and tone of leg veins and capillaries. Another characteristic of this product is that it claims to diminish the appearance of spider veins. Learn more about Reserveage Nutrition Beautiful Legs by reading our review below. See if this product is worth a try.
Ingredients
Proprietary Blend
Diosmin
Grapeseed extract
Horse chestnut
Butcher's broom
Hesperidin
Vegetarian capsules
Rice bran
Silica
The ingredients found in this product aid in the support of healthy vein function. The ingredient Diosmin maintains vein structure and smooth skin tone. It also supports the veins due to standing for long periods of time as well as healthy blood circulation and oxygenation.
Dosage Instructions
A user must take 1 capsule daily on an empty stomach, with food, or as recommended by your health care professional.
The Diosmin dosage in this product is very high. This high concentration may lead to an overdose. In contrast to this, the other ingredients are found in very low concentrations. For this product to be an effective treatment and support in varicose veins, it should have a balanced concentration of all the ingredients. Lack of this balance will render the product ineffective.
Cost and Guarantee
There are two methods available to purchase this product. A customer can either purchase it online from the manufacturer's website or it can be purchased from various retail stores near you. These retail stores can be located by following the instructions on the manufacturer's website. When purchasing it online, you will pay $28.99 for a bottle of 30 capsules. Unfortunately, the manufacturer does not offer their clients with any discounts and they do not provided bulk packages for purchase.
The manufacturer offers their customer's with a 30-day money-back guarantee. The only unfortunate part is that this guarantee is for unused products. This does not help first time users who wish to return products that do not deliver results. It would be better to choose a product that has a guarantee.
Summary Of Our Reserveage Nutrition Beautiful Legs Review
There are a few things we like about Reserveage Nutrition Beautiful Legs. The manufacturer has provided the customer with good instructions on how to use the product. It can also be purchased online from the manufacturer's website as well as from retail stores located near your area.
However, there are a few things about the product that we do not like and which needs to be addressed. First of all, the product contains the correct essential ingredients, however the ratio of each is incorrect. The Diosmin concentration is very high, which is seen as an overdose, whilst the other essential ingredients are so low that they might not even be effective.
Furthermore, there are no discounts offered by the manufacturer or even bulk packages for purchase. Lastly, the return policy offered by the manufacturer is very weak. First time customers will not be able to test the product and return it for a refund. These concerns lead us to believe that the product is ineffective and that is why we do not recommend Reserveage Nutrition Beautiful Legs.
Top analysis brought to you from the Analyze That team.