ScalpMed Herbal Hair Supplement-Review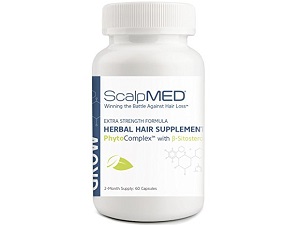 Product Claims of ScalpMed Herbal Hair Supplement
The following is a review of ScalpMed Herbal Hair Supplement. ScalpMed Herbal Hair Supplement is a specially made formula that uses selected natural ingredients that treats the scalp and stimulates hair growth from both the cellular and external levels. This product, unlike other hair growth products, claims to actually treat the scalp by providing it with essential nutrients to help hair grow.
Ingredients
Riboflavin
Niacin
Biotin
Zinc
Phyto-complex blend: Beta-sitosterol, Campesterol, Saw palmetto extract, Horsetail extract, Green Tea Extract, Linolenic Acid, Tumeric Extract, Pygeum Africanum Extract.
Riboflavin provides cellular support and promotes general health. Niacin, also known as vitamin B3, is good for boosting energy. Biotin, also known as vitamin B7, stimulates hair and nail growth. Zinc supports the immune system and promotes growth and development. The Phyto-complex provides ingredients that aim to counter hair loss. Beta-sitosterol strengthens the immune system. Campesterol promotes cardiac health which helps with circulation. Saw palmetto extract reduces the possibility of hair loss. Horsetail extract contains antioxidants to fight against free radicals. Green Tea extract promotes good health. Linolenic acid reduces inflammation. Tumeric extract is used to treat a great number of diseases. Pygeum Africanum Extract plays a vital role in hair growth.
Dosage Instructions
It is recommended that you take one capsule before breakfast. Please be sure to read and strictly follow the instructions and always consult a doctor before taking this or any other medication.
Cost and Guarantee
This product contains 60 capsules (2 month's supply) and it costs $39.99 if you buy online from the manufacturer. There are also some specials with auto-shipping options, however, these seem to work out more expensive. ScalpMed comes with a 30-day 100% money-back guarantee. Therefore, if you are dissatisfied with this purchase then you are permitted to return it within 30 days of purchasing the item. A money-back guarantee generally indicates that the product is of a very high quality and the manufacturer is confident in their product. However, 30 days does not seem like enough time to really try out the product.
Summary of Our ScalpMed Herbal Hair Supplement Review
ScalpMed Herbal Hair Supplement seems to be a decent hair growth product on the market. Interestingly this product works on promoting scalp health and stimulating hair growth from the cellular level. It contains some very carefully selected ingredients that are very likely to be effective. However, as a few of the select main ingredients form part of a blend, it is not clear how much of each ingredient this product contains. If the quantities are too low, this will have an effect on the efficacy of the product. There are very few reviews on Amazon about the product, which may indicate the popularity of the product. The money-back guarantee may also not provide a user with enough time to really try out the product - it is even less time than the time a bottle provides for. We think it may be better to look at alternatives that have their ingredients clearly explained and that give you more of an opportunity to try it out.
Top analysis brought to you from the Analyze That team.