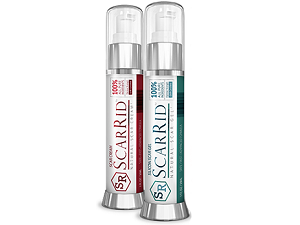 Product Claims of ScarRid
In this article we present our in-depth review of ScarRid. After looking closely at this product we believe it to be a top solution for scar removal. The manufacturer claims it helps to not only eliminate appearance of scars, but also works to repair and rejuvenate your skin. A topical skin treatment, it is also said to fight redness and inflammation, revitalize skin cell tissue, and improves skin tone. It replenishes skin oils and nutrients while sealing in moisture. The company producing it says it is the result of work by medical doctors and that it contains ingredients whose efficacy has been determined by clinical research. Some pretty wide ranging claims. But does this scar removal and skin rejuvenation treatment that work? Learn more in our ScarRid review below.
Ingredients
Ultimately the determining factor of efficacy is the ingredients. ScarRid uses a gel-and-cream approach for the best of results. Below are the ingredients it contains, according to format:
Gel
* Dimethicone
* Cyclomethicone & Dimenthiconol
* Cyclopentasiloxane & Dimethicone/Vinyl
Cream
* Allantoin
* Aloe barbadensis
* Emu oil
* Immortelle
* Jojoba oil
* Onion bulb extract
* Palmarosa oil
* Safflower
* Sunflower seed oil
* Tocopheryl acetate
* Vitamin C
Dimethicone relieves inflammation and safeguards wounds against external pathogens, while cyclomethicone and dimethiconol enhance internal healing. Cyclopentasiloxane and dimethicone/vinyl seal in moisture to promote better skin repair and regeneration. Aloe barbadensis, safflower, onion bulb extract, allantoin and jojoba oil help to speed up healing and fade scars. Sunflower seed oil and tocopheryl acetate, two of ScarRid's antioxidant-rich ingredients, promote moisture retention and collagen production respectively. Palmarosa oil moisturizes and facilitates cell regeneration, while vitamin C fades scars and also enhances skin tone and hydration. Emu oil and Immortelle (Helichrysum oil) also get rid of scars as well as relieve damage tissue and promote fresh skin.
Dosage Instructions
ScarRid is for external use only. You are to massage the gel and cream into affected areas three or more times a day. The manufacturer advises to stop use if you experience a skin rash or other skin irritation.
Cost and Guarantee
Both formats, the cream and the gel, are available for purchase from the manufacturer's website. The Starter Package of one tube of either ScarRid gel or cream sells $49.95. If you buy the two together, you get each unit for $36. The more you purchase, the greater the discounts you enjoy. The Best Value Package gives you three each of ScarRid gel and cream for $144 ($24 per unit), for a $155.70 saving.
The manufacturer offers a robust 60-day money-back guarantee. This gives you two months to try and measure its effectiveness without financial risk. If you decide to return it, the company will refund you for both used and unopened product. So you have little to lose and much to potentially gain.
Summary of Our ScarRid Review
ScarRid looks like a product we can recommend for those looking to get rid of scars and promote healthier, more vibrant skin. Its ingredients' benefits have been written about in research publications, it's bulk-buy pricing is affordable and it comes with a 60-day money-back guarantee. With all these factors in place we feel confident recommending this product.
Top analysis brought to you from the Analyze That team.