Schiff Move Free Joint Health-Review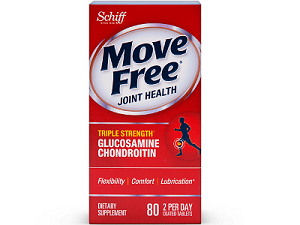 Product Claims of Schiff Move Free Joint Health
One of Schiff Move Free Joint Health's biggest claims as to why the supplement is effective is the four key ingredients it utilizes. The ingredients aim to deliver several health benefits that, in theory, should treat joint problems. The supplement aims to build up protection for the joints in order to prevent further damage. It also claims to help rejuvenate joints in order to prevent future flare-ups from happening. Another benefit is its ability to help lubricate joints which should return mobility as well as alleviate pain from affected areas.
Ingredients
Glucosamine Hydrochloride - 1.5 g
Chondroitin Sulfate - 200 mg
Joint Fluid [Hyaluronic Acid] - 3.3 mg
Uniflex [Fruitex-B Calcium Fuctoborate] - 216 mg
As stated earlier, Move Free Joint Health uses four special key ingredients to treat joint pain. These ingredients have their own specialty when it comes to offering joint relief. Glucosamine Hydrochloride helps in protecting joints by building up the essential structures that joints need. It can also help reduce inflammation around the joints.
The remaining ingredients act as a support for Glucosamine Hydrochloride. They help alleviate pain and strengthen joint health as well. This combination of ingredients should help treat joint pain quickly and prevent it from coming back. This product also contains a long list of inactive ingredients.
Dosage Instructions
The recommended dosage for Move Free Joint Health is two tablets a day. You can take it at the same time or divided throughout the day. It is also preferable to take Move Free Joint Health during meals in order to prevent digestive system problems. Drinking plenty of water is also advised. Remember to always follow the instructions on the label or as directed by a health professional in order to prevent complications that might arise due to side effects.
Cost and Guarantee
You can head on to their official website to learn where you can purchase this product. It is available on Amazon for $14.00 per 80 count bottle. The product also comes in a special discounted multiple bottle package. The 80-count 2 Pack Supply is available for $38.95.
The Schiff Move Free Joint Health supplement does not appear to have any customer guarantee. We checked their official website for any information about refunds but came up empty handed.
Summary of Our Schiff Move Free Joint Health Review
While Schiff Move Free Joint Health might be a well-known joint relief supplement, it does not have the solid reliability that you would expect. After checking online feedback for the product, we discovered that there is more than one occasion where the supplement failed to deliver any positive results. With the lack of customer guarantee, this can be a cause of concern for those who purchase the product. There is also no solid scientific foundation on their claims regarding their ingredients.