Tronolane Anesthetic Cream For Hemorrhoids-Review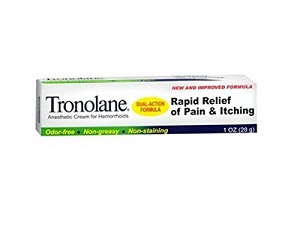 Product Claims of Tronolane Anesthetic Cream For Hemorrhoids
The following is our review of Tronolane Anesthetic Cream For Hemorrhoids. It can be used for the treatment of internal and external hemorrhoids. It helps to temporarily relieve all pain associated with hemorrhoids, soreness and burning on contact. It also helps with the relief of anus itching, and general discomforts associated with hemorrhoids. It's an unscented, non-greasy and therefore a non-staining cream. A very well liked product by medical doctors, therefore it is also known that it is widely used in hospitals. Continue reading for our full review.
Ingredients
Pramoxine hydrocloride – 1%
Zinc oxide – 5%
These ingredients are a protectant and an anesthetic combination. The protectant will serve to avoid any further deterioration of the hemorrhoids while it is healing. The anesthetic will numb the area on contact so that you don't feel anymore pain.
Inactive ingredients include beeswax, cetyl alcohol, cetyl esters wax, glycerin, methyparaben, propylparaben, sodum lautyf soffate, and USP water.
Dosage Instructions
It is recommended to first clean the affected area with mild soap and warm water and rinse thoroughly. You will then need to dry the affected area by patting or blotting with a tissue or soft cloth. The area will need to be completely dry before applying this product. The product should be applied externally or internally. There were no details on how many times day you can use this product. Children under 12 years should ask a doctor before using this product. You should consult a doctor if condition worsens, does not improve in 7 days, bleeding occurs, or if you experience an allergic reaction.
Cost and Guarantee
Tronolane Anesthetic Cream For Hemorrhoids can be purchased from a few different sellers on Amazon. We see the lowest price at the moment is $7.58 for a 1 ounce bottle. This is a little more expensive than similar products we have seen but still affordable. We weren't able to find a manufacturer's guarantee for this product. This shows that the manufacturer doesn't have much confidence in their product's effectiveness. It also doesn't give the customer much confidence either as well as a risk-free buying experience. The return policy will vary based on which seller you purchase from, so be sure to ask before you do.
Summary of Our Tronolane Anesthetic Cream For Hemorrhoids
There are a couple of positive things about Tronolane Anesthetic Cream For Hemorrhoids. The ingredients combined make up a great duo protecting the affected area while also numbing  the pain. There were also many customer reviews that said this product really worked and was the best for immediate pain relief. There were a couple of negatives as well. It is unclear how long each tube will last if you use the highest daily dose. We also weren't able to find information on how often you are allowed to apply this product. This product is also not backed by a guarantee, which shows the manufacturer doesn't have much confidence in their product's effectiveness.
Top analysis brought to you from the Analyze That team.