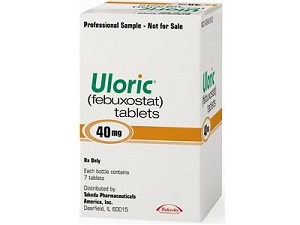 Product Claims of Uloric
Uloric is a prescription medication that can help lower uric acid levels in the body. It is a Xanthine Oxidase Inhibitor (XO Inhibitor) which regulates hyperuricemia (excess uric acid levels) lowering uric acid levels. As this is a prescription medication, it is not readily available to the general public. But how effective is Uloric when it comes to treating gout? Should you consider discussing this medication with your physician? Our full Uloric review should give you all the necessary information to make a decision.
Ingredients
Active Ingredients:
Inactive Ingredients:
Lactose Monohydrate
Hydroxypropyl Cellulose
Microcrystalline Cellulose
Sodium Croscarmellose
Silicon Dioxide
Magnesium Stearate
Opadry II
The active ingredient of Uloric is a compound known as febuxostat. This compound is used in regulating hyperuricemia which results in lower uric acid levels. It is a long term treatment for high uric acid level in the blood, and as stated earlier, is only available via prescription.
Dosage Instructions
Uloric tablets are to be taken once a day or as instructed by your doctor. It also comes in 2 dosages: 40 mg and 80 mg tablets. You should follow the directions of your doctor when taking this medication. As for precautions, there are several types of foods and beverages that you will need to avoid if you are taking Uloric including high sugar beverages, alcoholic drinks, seafood, red meat, asparagus, mushroom and spinach. Uloric is also known to cause side effects such as nausea, joint pain, gout flares and liver problems, so utmost care is needed when taking it.
Cost and Guarantee
The price tag for one 30-count bottle of Uloric is $309 which is definitely steep. Then again, this is a prescription medication and that is to be expected. There are no special discounts for this medication but the official website does offer a Savings Card for registered customers as well as access to financial assistance.
As for guarantees, there are none. Prescription medications normally don't come with any customer guarantees.
Summary of Our Uloric Review
While Uloric is designed specifically to lower uric acid levels, the chemical compound used in this medication is relatively new. The risks are still there when taking Uloric, and we're not only talking about possible side effects. While it has shown reliability in treating gout, users should take extra care and follow a doctor's instructions . The price tag is also extremely high which makes this a sort of last resort for those who suffer from gout. There are numerous affordable alternatives in the market today that you can check out.
We should also note that Uloric does not alleviate pain caused by gout. This medication does not use any anti-inflammatory compounds. Please be aware of this aspect and talk with your doctor about possibly combining this medication with a treatment or supplement that can help you with the chronic pain caused by gout. All in all, Uloric should only be taken if instructed by your doctor.