Will Kettlenetics Get You fit?-Review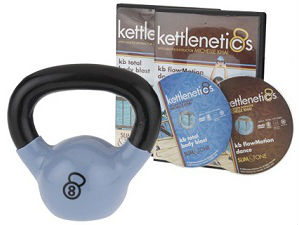 Kettlenetics Review
Our real life review of Kettlenetics will give you honest information you need to make a good decision about whether or not you want to buy this product. We did a thorough analysis of Kettlenetics and we found it to be a really good exercise system that combines weight training with aerobics. Take a look at our review and see for yourself what Kettlenetics has to offer.
We are dead set in the middle of a fitness craze and there are many products surfacing on the market to try and get your attention. Some claims are totally unfounded and the products just do not work or are costly. We found kettlebells and we were really interested in how they work. Kettlebells are a resistance trainer designed to focus the weight for your workout on your body's core muscle groups. Kettlenetics came up with a revolutionary system that combines using a kettlebell to work your body's core muscles with aerobics. This is a workout program that is designed to help you lose weight and get in shape at the same time. We were really impressed with the system and decided to take a closer look so we could give you the information you need to make a decision if Kettlenetics is right for you.
Product Claims
First, we need to clear up any misconceptions about kettlebells. These have been around for quite some time and were not designed or introduced by kettlenetics. Kettlenetics merely took the kettlebell design and created a program using a kettlebell. The company in no way intended to mislead anyone, although people may think that the company invented the kettlebell. Also, it is important to understand that just Kettlenetics will not sculpt the body or cause weight loss by itself. You will need to follow a good diet, proper lifestyle and commit to your exercise program. No one thing is the be all end all of weight loss and fitness. It takes a commitment from you and you need to do the work. It is very common too see the spokesperson for a product and think they look great because of the product. The people these companies hire are already physically fit, with or without using the product. And believe us, they had to work at it! For the most part, Kettlenetics is a really great exercise program. You have to do the work yourself and know that this is just a tool to get you moving. the Kettlebell included will help you work your core muscles and the aerobic exercises will help you to burn fat. We believe this really is a good deal to encourage people to use fitness programs as a part of getting and staying healthy. We were unable to find an actual website for the product, but we did find some great consumer reviews on the vendors websites. You can pick up Kettlenetics at any major drug retailer or online retailers that sell fitness products. We are going to go ahead and say this product is worthwhile, because of the sound fitness routine you are provided with. Please be wary that some trainers and physical therapists warn to use kettlebells with caution, because if not used or held properly they can overstretch muscles.
Cost and Money-Back Guarantee
You can pick up Kettlenetics from between $30 to $40, depending on the vendor. It is a worthwhile purchase if you can actually commit to the program. If not, you have just purchased overpriced paperweights. Usually the cost will encourage people to actually use the product. The money-back guarantee would have to be up to the retailer that you purchased from with this product and is usually pretty easy to return if you use a reputable retailer.
Kettlenetics Final Review
We were actually pretty impressed with the Kettlenetics program and think it is a pretty good deal. It is really up to you if you make it work for yourself by committing to the fitness program. Just know the Kettlenetics program is pretty aerobic and with the weights can make the aerobic exercise that much harder to do. This program is a great workout, but just be careful to learn how to handle the kettlebell properly. There are not many claims to injury by the company, but some fitness experts state that it can happen. As with any program, check with your doctor first before using Kettlenetics. The best thing to do is go slow with this program and work up to full capacity. Less is more with resistance training, since if you are sore from working out too hard you may want to skip workouts. This is a great fitness program and we were impressed with the workout and the equipment that comes with the program. Good Job Kettlenetics!
Top analysis brought to you from the Analyze That team.