Windmill Health Products Raspberry Slim-Review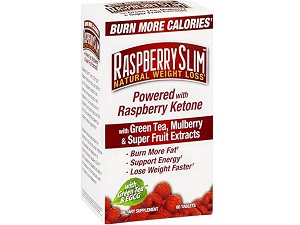 Product Claims of Windmill Health Products Raspberry Slim
There is no question that weight loss can be extremely slow and take a lot of dedication and discipline to meet your goals.  It is not easy by any means and there are no magic miracles for a weight loss technique.  However, there are Raspberry Ketones which is what many people are talking about as a key to their successes of their journey in weight loss.  So today we are reviewing Windmill Health Products Raspberry Slim, a supplement designed to burn fat and help you achieve your goals to lose weight and become better fit all together. The Raspberry Ketones help suppress your appetite and help break down molecules of fat thereby boosting your metabolism. And this product has a high fiber content as well.
Ingredients
Raspberry Slim contains:
Green Tea Leaf Extract (providing 90 mg EGCG and 50 mg Caffeine) - 262.5mg

Raspberry Ketones - 125 mg

Concentrated Berry Extracts (Acai Fruit 5:1 Extract, Litchi Fruit 10:1 Extract, Blueberry Fruit 4:1 Extract, Raspberry Fruit 20:1 Extract, and Mulberry Leaf 4:1 Extract) - 50mg
Other ingredients are:
Dicalcium Phosphate

Microcrystalline Cellulose

Croscarmellose sodium

Stearic acid

Magnesium Stearate

Silica and Film Coat (Hypromellose, Hydroxypropyl Cellulose, Polyethylene Glycol)
Raspberry Ketones affects the metabolism and helps block fat absorption, but should be derived from real raspberries. This product is both not purely raspberry ketones and does not state whether it is manufactured in a laboratory or from real red raspberries.  However, it is an important indicator that the product label shows that there is more green tea leaf extract than raspberry ketones. Green tea extract is used as a fat burner; one capsule contains 50mg of caffeine.
With 125 mg of raspberry ketones in each capsule, the total amount is raspberry ketones in this product is only 250 mg daily; the recommended daily amount is 1000 mg so considerably less than what is required for the best options for weight loss.
Dosage Instructions
The dosage instructions state to take 1 capsule twice a day with food.
Cost and Guarantee
Reach bottle contains 60 tablets which are enough for one month.  This product is available for purchase by third-party retailers for 1 bottle for $19.47, and two bottles can be purchased for $31.86 plus shipping and handling. There is no money-back guarantee provided by the manufacturer, unfortunately.  
Summary Of Our Windmill Health Products Raspberry Slim Review
Designed to assist you with your fitness program, this product is full of natural ingredients and high in fiber, green tea, mulberry, fruit extracts. It also has GMP certification. The biggest downfall of this product is simply in the ingredients themselves.  The number of recommended daily milligrams of Raspberry Ketones is 1000 mg and this product has 250 milligrams, and so it will ultimately be much less effective than other products; it has more caffeine than Raspberry Ketones.  Not surprisingly there are large numbers of reviews about the effectiveness of this product so that raises a red flag for us.  We make the recommendation of purchasing a Raspberry Ketone product that is manufactured from real raspberries that have a supplement recommendation of 1000 mg a day as well as a satisfaction guarantee policy.
Top analysis brought to you from the Analyze That team.