Women's Health Network T-Balance Plus-Review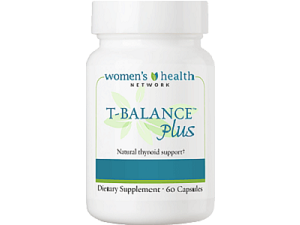 Product Claims of Women's Health Network T-Balance Plus
With over 12% of the population in the US who will develop a thyroid condition and with women over 5-8 times more likely to develop a thyroid condition, these numbers are certainly large. Today we are reviewing Women's Health Network T-Balance Plus, a supplement which assists with optimal thyroid performance for underactive thyroids which helps to alleviate fatigue and address unwanted weight gain, a loss of energy and many other associated symptoms of thyroid dysfunction including ensuring adequate levels of iodine.
Ingredients
Primary Ingredients
Iodine (from kelp) - 40 mcg

Selenium (Chelate) - 120 mcg

Proprietary herbal blend  - Bacopa Extract (aerial parts), Hops (flower), Sage (leaf), Ashwagandha Extract (root), Coleus Forskohlii Extract (root) - 416.7mg
Secondary Ingredients
Gelatin

Cellulose

Dicalcium Phosphate

Magnesium Stearate (from vegetable sources)

Silica
This is a good ingredient list although with notably low amounts of Selenium and Iodine. Deficiencies in Selenium deficiencies may impair thyroid function and is needed as an antioxidant to protect the thyroid gland. Iodine enables the thyroid gland to produce the two key thyroid hormones, T3 and T4, which assist in balancing metabolism. T-Balance Plus has only 120 mcg of Selenium in two capsules where other thyroid supplements have 260 mcg. Additionally, T-Balance Plus has 40 mcg of Iodine in two capsules where other leading supplements have 150 mcg.  So these amounts are below the recommendations for Selenium and Iodine.
The ingredient list in T-Balance Plus is also missing Vitamin B12, Zinc, Copper, Manganese, Molybdenum, L-Tyrosine, Schisandra, Bladderwrack & Kelp, Gotu Kola, and Gugulipids, which are now widely added to thyroid supplements.
Finally, this product contains gelatin and is therefore not suitable for vegetarians. The product does not contain milk, eggs, peanuts, tree nuts, fish, crustacean shellfish, wheat added yeast, or artificial preservatives, colors, sweeteners or flavors.
Dosage Instructions
The product label states to take two capsules daily; once in the morning and once in the evening with meals or as directed by your healthcare professional. T-Balance Plus should not be taken by pregnant or nursing women.  It can be used long-term but under the supervision of your healthcare professional.  The manufacturer states that it typically takes up to a month to feel the effects of this product.
Cost and Guarantee
Each bottle contains 60 capsules and is a month's supply.  This product can be purchased on the manufacturer's website for $29.95.  Shipping is free if you sign up for their automatic resupply program every 30, 45, or 60 days for both US and international orders. Shipping is free in the US for orders of $60 or more.
Third party websites sell this product for $29.95 for one bottle; $53.91 for two bottles; $76.37 for three bottles.
Women's Health Network offers a 60-day satisfaction guarantee for this product.  They will refund your money if not fully satisfied with your entire purchase, minus the shipping costs, even if you have finished taking all the supplements purchased.  
Summary Of Our Women's Health Network T-Balance Plus Review
Made in the USA and in a GMP facility, Women's Health Network has produced a good supplement towards the goal of gaining better thyroid health and the guarantee is a full 60 days.  However, there are key ingredients that are completely missing that help to nourish and support the thyroid to optimize healthy functions.  But perhaps even more importantly, the number of micrograms for Iodine and Selenium is significantly lower than what is recommended for supplements of this type which are considered essential for optimal thyroid function and a healthy metabolism. Consumer reviews were mixed with many customers simply not finding that this product works or causing adverse medical reactions. In this case, the reviews speak for themselves.
Top analysis brought to you from the Analyze That team.