Wonderlashes Eyelash & Brow Growth Serum-Review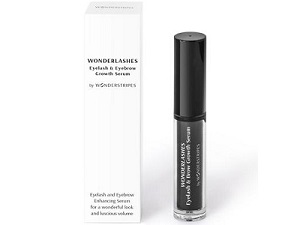 Product Claims of Wonderlashes Eyelash & Brow Growth Serum
The following review is for a product called Wonderlashes Eyelash & Brow Growth Serum. According to the manufacturer, this eyebrow and eyelash serum will enhance your natural eyebrows and lashes. The manufacturer claims that their product contains a variety of ingredients that will nourish your brows and lashes while providing you with immediate hydration. Additionally, continued use of their serum could help to reduce the appearance of fine lines and wrinkles without doing further damage.
Ingredients                                          
Aqua (Water)
Pentylene Glycol
Glycerin
Biotinoyl Tripeptide-1
Isopropyl Cloprostenate
Sodium Hyaluronate
Panthenol
Tocopherol
Polyglyceryl-4 Caprate
Ethylhexylglycerin
Alcohol
Phenoxyethanol
We found that this could be a good combination of ingredients. Panthenol is included in the formula because it hydrates and moisturizes the hair follicle. However, we were rather concerned that the manufacturer of this product does not disclose which of the ingredients included in this formula the active ingredients are. Products similar to this one that are highly effective contain a minimum of five patented ingredients that are concentrated to 10%. Additionally, we were rather concerned that this product does not contain marsula oil, pea sprouts and resveratrol. Resveratrol is an antioxidant that protects your skin from damage from free radicals in the environment.
Instructions
The manufacturers of this product recommend that you apply the serum to your eyelashes with the brush they provide. They also recommend that you cleanse your face before using this product. You should apply a few quick strokes to your lashes in the morning and in the evening. You should apply this serum directly above the lash line.
Cost and Guarantee
This product is available on the manufacturer's online store. One bottle of this product costs $82.20. Sadly, there are currently no discounts or special offers available on this product. Additionally, we were unable to find any information related to shipping fees. This means that you will probably have to pay extra to make sure that you receive the product that you have purchased. Unfortunately, it appears that there are no guarantees available for the customer who purchases this product. When a product has a guarantee, it indicates that the company respects their clients and believes in the efficacy of their product. Sadly, this does not seem to be the case here. Additionally, the manufacturer does not offer any return or refunds for their customers.
Summary of Our Wonderlashes Eyelash & Brow Growth Serum Review
When we reviewed this product, we concluded that it is an acceptable product for individuals who want to improve the condition of their eyelashes. The manufacturer included a variety of excellent ingredients in their formula. Additionally, there are several positive reviews available for this product. However, we are reluctant to recommend this product to anyone due to several issues we uncovered during our research. The manufacturers of this serum do not give any information regarding the active ingredients included in their formula. Additionally, this product is rather expensive when compared to similar products. Finally, we were rather alarmed to discover that there are no guarantees available for the customers who buy this product.
Top analysis brought to you from the Analyze That team.