Xtremelashes Amplifeye Advanced Lash & Brow Fortifier-Review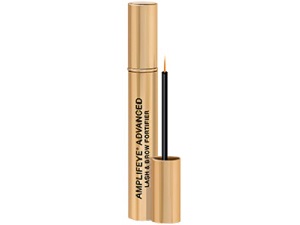 Product Claims of Xtremelashes Amplifeye Advanced Lash & Brow Fortifier
This review assesses the effectiveness of Xtremelashes Amplifeye Advanced Lash & Brow Fortifier, a product that is designed to enhance the volume of eyelashes and eyebrows. This product contains many vitamins and minerals that help to renew the eyelashes and reduce the effects of aging and thinning lashes. The effects are completely natural so customers may no longer need mascara or false lashes.
Ingredients
Arginine
Myristoyl pentapeptide 17
Hydrolyzed glycosaminoglycans
Hexapeptide 11
Hydrolyzed lupine protein
Acetyl tetrapeptide 3
Biotinoyl tripeptide 1
Sacrum officinarum extract
Hamamelis Virginiana leaf extract
Oenothera biennis flower extract
Tocopheryl acetate
Panthenol
Panax ginseng root
Rosmarinus officinalis leaf extract
Serenoa serrulata fruit extract
Urtica dioica extract
Pyrus malus fruit extract
Camellia sinensis leaf extract
Pterocarpus marsupium bark extract
Trifolium pratense flower
Glutamic acid
Hydrolyzed keratin
Chondrus crispus extract
Citrus limon fruit extract
Arginine is one of the key ingredients to healthy and full hair growth. Giving arginine directly to the cells which produce the eyelashes helps these cells to incorporate this important amino acid into the lashes. The various peptides in this product perform different functions. The main purpose of peptides is to produce proteins that are vital to the structure of healthy lashes. Some peptides also trigger particular chemical reactions in the cells that may stimulate them to put more resources into building eyelashes, which makes the lashes longer, thicker and stronger. The plant extracts in this product provide nutrients and antioxidants to the skin cells and lashes. With the right nutrients, lashes can grow more healthily and stronger and the antioxidants reduce damage and inflammation to the cells and lashes, which helps them to remain strong.
Instructions
Xtremelashes Amplifeye Advanced Lash & Brow Fortifier may be applied twice a day, in the morning and at night before sleeping. Customers should cleanse the eye area and allow it to dry before applying this product. For eyebrows, apply the product using the applicator in short strokes and massage it into the root area. For eyelashes, apply the product to the upper and lower lash line as if applying eyeliner.
Cost and Guarantee
The cost of 0.17 fl oz. is $119. The price excludes delivery. We could not find any subscription service from the manufacturer, but some online retailers offer a regular monthly order, which comes with a 5% discount. The manufacturer has a loyalty program in which customers receive points which can be translated into discounts. This program applies only to products purchased directly from the manufacturer.
No opened items may be returned to the manufacturer. If however, the customer would like to, they can return the product in its original packaging within 14 days of delivery. A service fee of 20% is charged. Customers may also choose to receive store credit instead of a refund, which has a 10% service fee. The credit is valid for 12 months.
Summary Of Our Xtremelashes Amplifeye Advanced Lash & Brow Fortifier Review
Xtremelashes Amplifeye Advanced Lash & Brow Fortifier  has a good collection of ingredients and clear instructions on how to use it. However, it is quite expensive and the manufacturer's discounts are insignificant compared to what some other manufacturers offer. There is also no satisfaction guarantee on this product, so customers take a big risk when purchasing it.
Top analysis brought to you from the Analyze That team.