Yeouth Vitamin C&E Serum Hyaluronic Acid-Review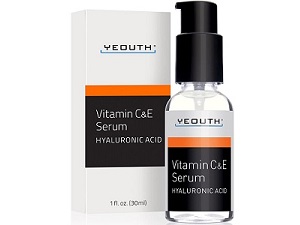 Product Claims of Yeouth Vitamin C&E Serum Hyaluronic Acid
Yeouth Vitamin C&E Serum Hyaluronic Acid is a day serum product. Its purpose is to reduce fine lines, enhance skin tone, and nourish the skin. As a result, the manufacturer claims it will help your skin look vibrant and younger. But, can it yield the best results? The following review assesses product attributes to determine if it's the ideal option on the market.
Ingredients
Aloe Barbadensis Leaf Juice
Magnesium Ascorbyl Phosphate
Sodium Hyaluronate
Butylene Glycol
Polysorbate 20
Tocopherol
Phenoxyethanol
Aloe Barbadensis Leaf Juice is a common skin care ingredient. Its role is to repair skin damage and reduce irritation. Magnesium Ascorbyl Phosphate is a derivative of Vitamin C. Vitamin C boosts the body's production of collagen. Collagen is an essential component of the skin's structural integrity. As a result, this reduces the prominence of wrinkles. Sodium Hyaluronate also benefits the skin tissue. Consequently, it firms the skin and reduces fine lines. Butylene Glycol is a conditioning agent. There are many concerns regarding the use of this ingredient. Resources suggest that it may be toxic to the body. As a result, it may be beneficial to use a formula that does not contain it.
Polysorbate 20 is an emulsifier that may enhance the shelf life of this formula. Tocopherol, or Vitamin E, fights free radicals and prevents oxidative stress. Consequently, it delays signs of aging. Phenoxyethanol is an antibacterial that may prevent the buildup of toxins in the skin. This formula contains some beneficial ingredients, however, it also includes a questionable one. This is somewhat concerning. Furthermore, it does not contain patented ingredients. Patented ingredients are clinically proven to deliver efficient results. As an example, Argireline NP visibly reduces wrinkles within fifteen days of use.
Instructions
The manufacturer provides clear directions for use. Users should apply the product to the cleansed skin. While damp, apply a pea-sized amount to the face and neck. Allow it to absorb into the skin naturally. Users should follow application with a moisturizer, however, this will come at an additional cost. The manufacturer suggests using it in combination with their other products. Thus, you may need to spend additional money for best results. It is concerning to note that the manufacturer does not provide the ingredient concentrations. Therefore, we cannot be certain of the product's strength. Especially when compared to alternatives on the market.
Cost and Guarantee
The product retails online from the manufacturer's store. A 30ml bottle would usually cost $39.95. However, it is currently on a discount for $15.95. This is a substantial saving and is relatively affordable. However, this is likely due to the fact that it fails to include patented ingredients. As a result, it may not deliver optimal results and the low price may not be justified. Furthermore, it is concerning to note that the guarantee is incredibly vague. They state that they accept returns within 30-days, however, do not stipulate what conditions are eligible for a refund. Therefore, you may not receive your money back if the product does not work. Another worry is that there are sufficient negative customer reviews for it. Many customers report that it does not deliver on manufacturer claims. Other customers state that they experienced negative side effects, such as break-outs.
Summary Of Our Yeouth Vitamin C&E Serum Hyaluronic Acid Review
Upon reviewing this product, there are some attractive aspects. The formula contains several beneficial ingredients. Also, the price is very reasonable. However, there are many downsides. The low price is likely because it does not contain clinically proven patented ingredients. As a result, it may not deliver the best results. Furthermore, the unclear guarantee may be unreliable. The negative customer reviews do not bode well for efficacy. For these reasons, we suggest purchasing a more proven product. 
Top analysis brought to you from the Analyze That team.