Yerba Prima Odor Cleanse-Review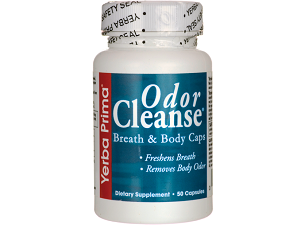 Product Claims of Yerba Prima Odor Cleanse
There is nothing more uncomfortable than being around someone who either has bad breath or bad body odor or both. There are many products available to help individuals who are struggling with such problems, to try to get the source of the odor to combat it.  Specifically, by neutralizing it and suppressing the odor gets to create a solution immediately.  The important thing is not to try to cover up the odor, but rather to address it head-on with products like Yerba Prima Odor Cleanse which we are reviewing here today. Designed to be a deodorant working within your body, it cleanses the body from toxins which create bad breath and body odor. The product will help you reduce harmful bacteria to support the immune system overall, as well as assist in supporting the overall health of your digestive system.
Ingredients
Patented Mushroom Extract - 75 mg

Agaricus Bisporus
Other Ingredients: Cellulose, FOS (Fructo-Oligosaccharides), Vegetable Magnesium Stearate, Kosher Gelatin Capsule.
The manufacturer's special patented extra with mushrooms is thought to neutralize substances that are in the body which cause bad breath, body, and fecal odor.
Dosage Instructions
The dosage instructions state to take 1-2 capsules with liquid as needed or shortly after the completion of a meal especially around eating garlic, onions, and meat.  It is important to take the supplements to compliment your regular oral hygiene routine that you are already following.
The manufacturer suggests the following as well:  take 1-2 capsules daily for reducing body odor; take 2 capsules 3 times a day for 2 weeks for reducing fecal odor.
The manufacturer also adds that if you have difficulty swallowing capsules, to not take this product.  Finally, if you are nursing, pregnant, or under the care of a doctor for any medical condition, you should correspond with them before you take this product.
Cost and Guarantee
It is possible to buy this product on third-party websites for $9.20 which includes 50 capsules.  The manufacturer's website sells the same bottle for $13.99.  You are advised to check around for the best buys available at the time you make the purchase. We were unable to find discounts available for buying more than one bottle at a time. Finally, there is no manufacturer's guarantee available.  
Summary Of Our Yerba Prima Odor Cleanse Review
This particular supplement freshens breath and works as a fair supplement to tackle the issue of bad breath and body odor, and it has an original formula based on mushrooms.  The major issue with this product is that it does not appear to be useful enough to tackle the issue so that consumers felt that it was ultimately not worth it to purchase it, to begin with.  This coupled with the fact that there is no review leads us to make the recommendation that consumers may not want to necessarily try this product when there are other products that contain probiotics that are beneficial for optimum digestive health, and that will help reduce the number of bad bacteria that may be present in your body which leads to these malodors. There are products containing Chlorophyllin-copper complex which is a key ingredient that this product appears to be missing to expel the odors from the body.And these products are backed up by the manufacturer with strong guarantees that allow for the purchase to be truly risk-free.
Top analysis brought to you from the Analyze That team.