Yes You Can! Detox-Review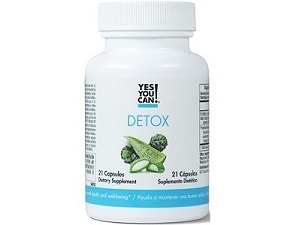 Product Claims of Yes You Can! Detox
The following review is of Yes You Can! Detox. A body cleanse that promotes overall health and well-being is needed once in a while. The manufacturer believes that they have designed this and more. It claims to help support optimal liver and kidney function, supports the body's natural cleansing process, and also provides the body with antioxidants. Read on to see what YES You Can! Detox can do for you as an effective 7-day detox program.
Ingredients
Main Active Ingredients:
N-Acetyl L-Cysteine
Milk Thistle seed extract
Proprietary Blend:
Aloe Vera extract
Artichoke extract
Broccoli extract
Other Ingredients:
Gelatin
Microcrystalline Cellulose
Magnesium Stearate
Silica
The main active ingredients is claimed to help the liver and kidneys with the detoxification process, whilst also providing rejuvenation properties and protection. The product lacks the presence of essential ingredients which need to work in combination for an effective detox program. These include ginger, senna, and fennel.
Dosage Instructions
The manufacturer suggests taking 3 capsules per day. If you wish to see best results, it is recommended that you take 1 capsule in the morning and 2 capsules in the evening. The product must only be used for 7 days.
Women who are pregnant and lactating and persons under the age of 18 should not use this product. The recommended serving of 3 capsules should not be exceeded within any 24-hour period.
Cost and Guarantee
The manufacturer sells the product on their website for $29.99. There are no discounts offered by the manufacturer for this product. It seems as if the product can only be purchased online from the manufacturer and not from other online stores or local retail stores.
The manufacturer offers a money-back guarantee, however, they do not give any other information concerning their return policy. This is a very weak policy as there are two pieces of crucial information that are not provided by the manufacturer. Firstly, they do not state the amount of days the customer has where within the product must be returned. Secondly, they do not indicate if the product must be sealed or if it may be opened and used upon returning. These communication gaps may lead to confusion and many problems for the customer as well as the manufacturer.
Summary Of Our Yes You Can! Detox Review
After studying Yes You Can! Detox, we came across a few things that we like. The manufacturer provides their customers with clear instructions on how to take the capsules as well as providing them with useful guidelines to ensure they receive the best results. It also comes in easy to swallow capsules.
Nonetheless, we also came across many things we did not like about the product which we need to point out. First of all, the manufacturer does not offer discounts or other places to purchase the product. These could be seen as an inconvenience for certain customers. Lastly, the manufacturer offers a very weak guarantee which may be a concern for first time customers. These reasons lead us to believe that the product is not effective and we recommend that you choose an alternative 7-day detox program. We do not recommend Yes You Can! Detox.
Top analysis brought to you from the Analyze That team.