YouTheory Turmeric-Review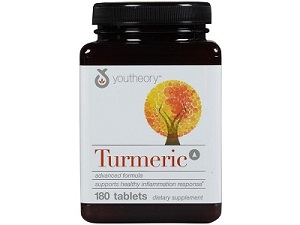 Product Claims of YouTheory Turmeric
YouTheory Turmeric is a joint support and anti-inflammatory supplement. Not only does it offer a solution to joint problems caused by inflammation, it also contains powerful antioxidants to help prevent such health issues from returning in the future. It utilizes their patented Curcumin C3 Complex formula that the manufacturer claims delivers fast-acting results. The addition of Bioperine also makes absorption of the nutrients into the body faster. Is YouTheory Turmeric a viable choice for those suffering from joint problems? Read our full YouTheory Turmeric review to find out.
Ingredients
Turmeric Extract [Curcumin C3 Complex] (standardized to 95% curcuminoids) - 450 mg
Olive Leaf Extract (20% oleuropein) - 300 mg
Black Pepper Extract (95% piperine) [Bioperine] - 15 mg
YouTheory Turmeric uses their own formula when it comes to delivering the natural benefits of turmeric curcumin. The Curcumin C3 Complex claims to help improve the potency of the extract. Olive leaf extract is known to contain a high level of antioxidants and anti-inflammatory properties as well. The inclusion of Bioperine should help facilitate the body's absorption of all the essential vitamins and nutrients contained within each capsule of YouTheory Turmeric.
Dosage Instructions
Instructions for the recommend dosage of YouTheory Turmeric is quite simple and easy to follow. Adults should take this supplement three times a day, preferably during meals and with plenty of water. You can also take the three capsules at the same time.
Always check with your doctor first before taking any kind of supplement. Pregnant and nursing mothers should avoid taking YouTheory Turmeric as it might affect the development of the infant.
Cost and Guarantee
You can purchase YouTheory Turmeric in both online retail shops (Amazon) as well as major retail chains (Walgreens, Rite Aid, etc.) near you. One 120-count bottle of YouTheory Turmeric is available for $18.99 on Amazon. There are no special discounts available with any bulk purchases. You can check their official website for a complete list of stores that offer YouTheory Turmeric.
Unfortunately, YouTheory Turmeric does not come with any sort of customer guarantee. This means that new customers won't have any chance to get their money back if the product failed to deliver results. One silver lining here is that YouTheory Turmeric appears to have quite a solid reputation online with an 80% and above positive customer feedback rating. Still, the customer guarantee could help keep potential customers' mind at ease.
Summary of Our YouTheory Turmeric Review
All in all, YouTheory Turmeric appears to be a solid entry in the supplement market. It incorporates a more potent formula without having any notable side effects. It also has a reasonable price tag along with the solid customer reviews. However, we do feel that the lack of customer guarantee should be kept in mind. This is a notable exclusion that other similarly priced and equally praised joint support supplements have in their arsenal. YouTheory Turmeric is a worthwhile option for treating joint problems but it wouldn't hurt to broaden your choices a bit more.
Top analysis brought to you from the Analyze That team.