Zahler UTI Revolution-Review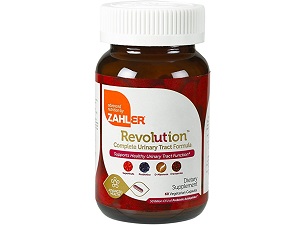 Product Claims of Zahler UTI Revolution
Urinary Tract Infections affect many more people today including women, men and children too. Zahler UTI Revolution, which we are reviewing today, is designed to be a combination of ingredients to be as effective as antibiotics in both getting rid of a current infection and avoiding recurrent ones. With UTIs caused by the presence of unwanted bacteria in the urethra and bladder, once an infection starts, it becomes very uncomfortable for the person suffering.  The need to constantly urinate, and it being painful with a lot of pressure around the lower abdomen, makes for a lot of discomfort and necessity to do whatever you can to get better and avoid UTIs in whatever way that is possible.
Ingredients
Main ingredients:
Vitamin C (Ascorbic Acid) - 100 mg

Cran-Max® Cranberry (Vaccinium Macropcarpon) Fruit & Seed Powder - 1 g

Cranberry (Vaccinium Macropcarpon) Fruit & Seed Powder

D-Mannose - 1.2 g

Lactobacillus Acidophilus - 250 mg

Pumpkin Seed Extract - 100 mg

NutraFlora® (Fructooligosaccharides) - 80 mg

Proprietary Blend - 50 mg (Cabbage Palm (Acai Berry) Fruit Powder, Pomegranate Fruit Powder, Lycium (Goji Berry) Fruit Powder

Camu Camu Fruit Powder - 25 mg

Acerola Berry Powder - 25 mg

Dandelion Root Extract - 20 mg
Other ingredients:  Hydroxypropyl Methylcellulose (Capsule), Microcrystalline Cellulose
Vitamin C, a powerful antioxidant, decreases the chance of developing a UTI; D-Mannose prevents urinary tract infections (UTIs); Pumpkin Seed Extract relieves bladder discomfort.
Dosage Instructions
The dosage instructions state to take 4 capsules daily preferably split up into two different meals, and taken with a full glass of water, or as directed by your physician. There are 15 servings per container, 60 capsules.
Be sure to discuss taking this product with your doctor if you are taking any type of medication or if you are pregnant or nursing.
Cost and Guarantee
This product can be purchased by third party retailers and comes in two sizes; a 60 count bottle can be purchased for $38.97; 120 counts for 64.97. There are options to get further discounts if you subscribe to receive the product regularly.
The Professional Supplement Center accepts returns on unopened items within 60 days of the receipt.  Opened bottles cannot be returned so if you try the product and are unsatisfied, you will not be refunded for a truly risk-free purchase.
Summary Of Our Zahler UTI Revolution Review
Made in the USA, this appears to be a good product with solid ingredients that are soy and dairy free, kosher and parve. Unfortunately, the product does not appear to be effective as evidenced by a fair number of negative reviews we reviewed. The price point is also higher than other competitive products designed for UTIs, especially given that one 60-count bottle will only last you for a half month, and you will need to be able to afford 2 bottles each month.  Also, the fact that there is no effective guarantee on open bottles means that the manufacturer does not allow for risk-free purchasing for first-time buyers.  When manufacturers allow new customers to try their products without the risk of being out the money if they are unsatisfied, it inspires confidence in the buyer.  Otherwise, with no satisfaction guarantee, along with mixed reviews and not an attractive price for purchasing, we don't give this product a strong recommendation.
Top analysis brought to you from the Analyze That team.