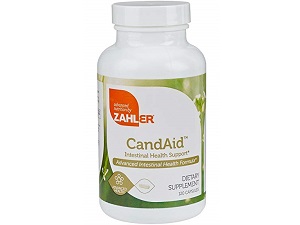 Product Claims of Zahlers CandAid
The subject of our product review today is a supplement called Zahlers CandAid. The makers of this anti-fungal formula claim that it can provide beneficial support for intestinal microflora health and will help you create a balance of good bacteria to clear up and prevent yeast infections.
Ingredients
Caprylic Acid - 1000 mg
Grapefruit Seed Extract - 500 mg
Oregano - 500 mg
Garlic - 400 mg
Caprylic acid might help to lower blood pressure and may be used to help some digestive disorders. Grapefruit seed extract may have antioxidant effects which could assist with lowering cholesterol and protecting cells from damage. Oregano may assist with digestion by helping bile flow and fighting bacteria and viruses. Garlic may be beneficial for yeast infections. Lacking among the supplement's ingredients are probiotics. Since systemic candida are often a result of gut flora imbalances, probiotics for yeast overgrowth should be a key element of the treatment. 
Dosage Instructions
There are no specific instructions provided by the manufacturer regarding dosage for this product. This is very concerning to us.
Cost and Guarantee
You can purchase this product directly from the manufacturer's website for $52.95 for a bottle of 120 capsules which is a one month's supply. There are no new customer incentives nor bulk purchase discounts offered by this manufacturer. The manufacturer offers a 30-day money back refund. You can return the product either used or unused, in good condition and in the original packaging. They do not refund shipping or handling costs. 
Summary Of Our Zahler CandAid Review
We found several strengths in Zahler CandAid anti-yeast formula. The manufacturer offers a 30-day money back refund that includes opened bottles of supplements. This product contains some natural ingredients that may be beneficial for treating yeast infections. It's not all positive, however. The manufacturer is vague regarding dosage instructions and provides no specific instructions regarding how many capsules, when to take, or if to take with food or water. It also does not mention any possible side effects nor warnings. In terms of ingredients, there is a lack of probiotics which may render this product ineffective in treating yeast infections. There is no assurance from the manufacturer that this product is made in an FDA certified facility, that it is GMO-free, that it contains no fillers or binders, or if it is suitable for vegetarians and vegans. In terms of the product guarantee and return policy, the manufacturer does not refund shipping or handling costs relating to a returned item. The return policy is too short at 30 days in length and does not allow you enough time to see if the product is effective for you. Pricewise, this is a very costly option for yeast infection treatment at $52.95 for a one month's supply of capsules. This coupled with the fact that there are no new customer incentives nor bulk purchase discounts offered by this manufacturer makes it even costlier to buy in the long run. Lastly, we did not find any customer reviews for this product. For all these reasons we are unable to recommend CandAid as an anti-yeast infection supplement. 
Top analysis brought to you from the Analyze That team.