Zelens Triple-Action Advanced Eye Cream-Review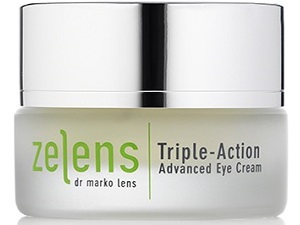 Product Claims of Zelens Triple-Action Advanced Eye Cream
This is a review for Zelens Triple-Action Advanced Eye Cream, a product from the United Kingdom that claims to be a state-of-the-art solution to under eye problems. This eye cream promises that it can soothe, moisturize and improve the appearance of puffiness and dark circles, as well as wrinkles, around the eyes. It is further suggested that Triple-Action Advanced Eye Cream can immediately revitalize tired skin leaving you looking refreshed.
Ingredients
Acetyl Octapeptide-3
Acetyl Tetrapeptide-5
Palmitoyl Oligopeptide
Palmitoyl Tetrapeptide-7
Sesame Protein
While the above listed are marked as this product's active ingredients, there are more than two dozen inactive ingredients that are both organic and inorganic in nature. Consisting of amino acids aspartic acid, glutamic acid, glutamine, and methionine, Acetyl Octapeptide-3 is a synthetic peptide which is used as it blocks the release of neurotransmitters which causes wrinkles. Acetyl Tetrapeptide-5 is also an artificial peptide that has the ability to calm and hydrate the skin while enabling firmness. It is also said that this ingredient can reduce puffiness. Palmitoyl Oligopeptide and Palmitoyl Tetrapeptide-7 influence the pigmentation under the skin that causes dark circles and assists in reducing this by firming the skin. And Sesame Protein helps to tighten the skin and hydrate the dermis. This product has been clinically tested, with varied results.
Instructions
According to the available product information, you should apply this eye cream in the morning and again in the evening, on a daily basis. This eye cream should be used after the skin has been cleansed in a circular motion. There is no mention of the amount you should use or how long to use it for.
Cost and Guarantee
You can buy this 0.5 Oz. jar of eye cream at a price of $105.68 on the manufacturer's website. A high cost when you take into consideration that their returns policy does not allow for any testing on the customers part. To return the product it must be in its original unopened and unused condition and must be shipped back within seven days of receipt. With a returns policy that does not allow the end user to try the product before returning it if it does not work, does raise some serious concerns about the confidence that the manufacturer might have in the effectiveness of this eye cream.
Summary Of Our Zelens Triple-Action Advanced Eye Cream Review
While conducting our research for this review of Zelens Triple-Action Advanced Eye Cream, we did not come across past customer reviews. But we did find that some of its inactive ingredients have been commonly featured in eye creams and were pleased to see that some clinical studies had been conducted. However, we could not ignore the long list of chemical ingredients. We also did not like that for a product of its price, the manufacturer's return policy essentially posed a financial risk for customers who were unhappy with their results after purchasing this skin care product. Taking these factors into consideration, we have to question the effectiveness of this eye cream.
Top analysis brought to you from the Analyze That team.