Zen Life Supplements Zen Anxiety-Review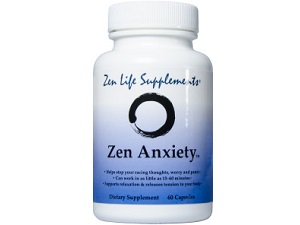 Product Claims of Zen Life Supplements Zen Anxiety
This is a review of a product called Zen Anxiety from Zen Life Supplements. According to the manufacturer, this product is an effective option for individuals who suffer from severe anxiety. This dietary supplement contains a variety of excellent ingredients that help your body to cope with the effects of stress. This product helps to increase the levels of serotonin and dopamine, which are natural chemicals that help your body to cope with stress. Additionally, the manufacturer of this dietary supplement claims that continued use of this product will help you to sleep more soundly.
Ingredients
Vitamin B6
Magnesium
Gamma-Aminobutyric Acid
L-Theanine
Baikal Skullcap
Ashwagandha Extract
Holy Basil
Lemon Balm
In theory, this is a good combination of ingredients that will help your body to adjust to stress and worry more effectively. However, our research indicates that there is a wide variety of issues with this formula. The manufacturer of this product does not state if there are any additional ingredients included in this formula. These additional ingredients act as additives, preservatives, fillers, and binders. Additionally, we were concerned about the lack of additional ingredients because these additional ingredients may make this supplement unsuitable for a wide variety of people.
Dosage Instructions
The manufacturer recommends that you take two capsules of this dietary supplement every day. They also state that you can take up to six capsules in a single day. The manufacturer claims that their product is safe to use every day. However, we were concerned that taking six capsules in a single day is not safe. Even though the manufacturer claims that there are no risks associated with this dosage we would recommend consulting your doctor before taking such a high dose.
Cost and Guarantee
One bottle of this dietary supplement is available for $49.95 on the manufacturer's online store. You will save a considerable amount of money if you buy in bulk from this manufacturer. However, we could not find any information regarding shipping fees so you will probably have to pay extra. Sadly, we could not find any information on guarantees for this product. This indicates that the manufacturer is not entirely confident with their product. When we see a product without a guarantee we are immediately alarmed as a guarantee assures you that the company believes in the product they deliver to their consumers.
Summary of Our Zen Life Supplements Zen Anxiety Review
After we completed this review, we concluded that this is a perfectly acceptable product for individuals who suffer from extreme stress. The manufacturers of this product provide a variety of excellent discounts for individuals who wish to buy in bulk. Additionally, we were able to find a wide variety of positive reviews for this product. However, we were rather concerned about how expensive this dietary supplement is even when you receive a discount. Additionally, we were concerned that the manufacturer recommends such a high dosage that it is not safe to use. Finally, we were alarmed to discover that you do not receive any guarantees when you buy this product.
Top analysis brought to you from the Analyze That team.