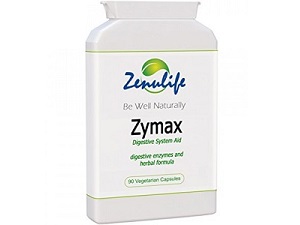 Product Claims of Zenulife Zymax
Today we review Zenulife Zymax. This all natural supplement claims to help improve your digestion as well as detoxify your body. When your body is able to digest food properly, it can reduce odors from your body and your breath.
Ingredients
Betaine Hydrochloride
Bromelain
Papain
Protease
Amylase
Lipase
Apple Cider Vinegar
Caraway Seed
Chamomile Herb
Fennel
Ginger Root
Peppermint Leaf
Turmeric
This formula is contained within a vegetarian, gluten free capsule. While some of these ingredients will help digestion, there are many ingredients missing which will enable this supplement to truly help with bad breath and body odor. When increasing the efficiency of digestion, you should also have probiotics in the mix to ensure there are plenty of good bacteria in your gut.
Dosage Instructions
One to two capsules should be taken at every main meal. It is unclear if this means three times per day, or if you should take once daily at whichever meal you consider the largest. Additionally, this supplement should not be taken if you have peptic ulcers and it should not be a replacement for a healthy and balanced diet.
Cost and Guarantee
One bottle of 90 capsules normally costs $49.00. The manufacturer is currently holding a sale for this product for only $29.00. They also offer a special buy two, get one free discount. Without knowing the true directions for this supplement, it is difficult to know how expensive this product will be in the long run.If you need to take 1-2 pills three times per day, each bottle will last for less than a month, making this quite expensive. Shipping is an additional $5.95, unless you purchase reaches more than $100, in which case you are eligible for free shipping.
This manufacturer does offer a money back guarantee on their products. Should you find yourself unhappy with your purchase, you have 60 days to contact the customer service team to request a refund with no questions asked. It is not clear, however, if the company will refund your entire amount, including shipping, or just for the purchase price of the item.
Summary Of Our Zenulife Zymax Review
There are a few things we liked about Zenulife Zymax. These capsules are both vegetarian and gluten free. Additionally, if you find yourself unhappy with your purchase, the company offers a no questions asked, money back guarantee.
Unfortunately, we had many concerns about this supplement. While digestion could be a possible cause of bad breath or body odor, there could be other issues causing this problem. This supplement only contains ingredients to aid in better digestion, making it limited in how much it will help with these bad smells. Next, the dosing directions are not as clear as they should be in regards to how often it needs to be taken. Lastly, the price was more expensive than other similar products. For these reasons, we cannot recommend using this supplement to help you get rid of your bad breath and body odor.
Top analysis brought to you from the Analyze That team.