Zilactin-B Canker and Mouth Sore Relief-Review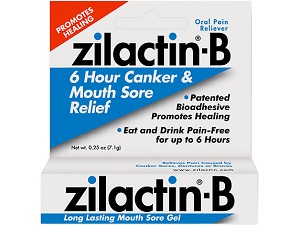 Product Claims of Zilactin-B Canker and Mouth Sore Relief
Today we will review a product called Canker and Mouth Sore Relief, manufactured by Zilactin-B. The manufacturer claims to have a patented bio-adhesive which is applied to the affected area to start the healing process. They also claim that their patented product allows one to eat and drink without any problems due to its pain-free effect, which also provides up to 6-hours of relief. Read below to see what Zilactin-B Canker and Mouth Sore Relief can do for you and if it is worth a try.
Ingredients
Benzocaine
Boric Acid
Hydroxypropyl Cellulose
Propylene Glycol
Water Purified
Salicylic Acid
SD Alcohol 38B
Tannic Acid
Benzocaine is the main active ingredient found in this product and is at a 20% concentration. The aim of the product is to relieve the pain that is caused by canker sores. Unfortunately, for the product to actually be effective it not only needs to have pain relief properties, however, it also needs to be able to reduce the duration and severity, increase the healing process, whilst also providing long-term prevention thereof. Another concern we have is that the product lacks essential ingredients such as vitamin B12 and propolis, which is essential to help increase absorption of the product for a more rapid response.
Dosage Instructions
The user must first dry the affected area. Then they must apply a thin coating with either their clean finger or a cotton swab. The product should be applied at least 4 times within a day for about 7 days. After the product has been applied, give it time to dry. 30 to 60 seconds will be enough. The manufacturer suggests that one see a healthcare professional if the condition worsens after 7 days of use.
Cost and Guarantee
The only place to make an online purchase for the product is from Amazon. A tube of 0.25 oz will cost $9.09 and 1 oz will cost $36.36. Unfortunately, the manufacturer does not offer the client with a discount.
We were quite concerned to find that the manufacturer does not offer the client with a money-back guarantee. First time customers will not be able to purchase a product, try it, and return it for a refund if they discover the product does not work. It would be better choosing a product that comes with a guarantee.
Summary Of Our Zilactin-B Canker and Mouth Sore Relief Review
After reviewing Zilactin-B Canker and Mouth Sore Relief we were happy to find clear instructions on how to apply the product and how often it should be used. It was also good to see that the manufacturer offers the product in a 0.25 oz tube as well as a 1 oz tube.
Nonetheless, we came across a few negative points. First of all, the product lacks vitamin B12 and propolis, which is essential for fast absorption of the product. Furthermore, the product is not a multi-action formula. The product only provides temporary relief for the problem. Finally, the manufacturer does not offer the client with a return policy.
In conclusion, we are concerned about the lack of ingredients and properties this product holds, as well as the lack of guarantee. Due to these reasons, we do not recommend Zilactin-B Canker and Mouth Sore Relief.
Top analysis brought to you from the Analyze That team.