Research Verified's AnxiRelief Day & Night-Review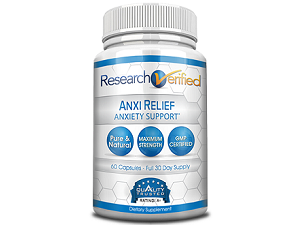 Product Claims of Research Verified's AnxiRelief Day & Night
When you are living daily with anxiety, the first thing that many people will tell you is to start taking medication. While that might help with lowering daily anxiety, does it really help in the long run? Research Verified offers a different approach, with its all-natural AnxiRelief formulas, one for the daytime and another for the night, to help manage anxiety with less risk of side effects. In our review of this product, we look at the formula and other factors (cost, refund policy) to give you the information you need to make an informed purchasing decision.
Ingredients
The daytime formula includes:
Magnesium, 190mg
Niacinamide, 180mg
Valerian Extract, 200mg
Passionflower, 200mg
Chamomile, 170mg
5-HTP, 110mg
Standardized Magnolia, 100mg
L-theanine (99% pure), 100mg
Eleuthero, 60mg
Common Oat, 40mg
Brahmi, 40mg
Other ingredients include: Gelatin, Magnesium Stearate, Calcium Carbonate
The nighttime formula includes:
Valerian, 250mg
Passionflower Extract, 155mg
Chamomile, 150mg
Lemon Balm Extract, 110mg
Hops, 50mg
Taurine, 21.5mg
Magnolia, 18.5 mg
Jujube seed extract, 16mg
Reishi mushroom, 10mg
Melatonin, 2.5mg
Other ingredients include: Gelatin, Magnesium Stearate, Calcium Carbonate
Both formulas include clinically proven ingredients to provide a complete anxiety management solution. Valerian Root, 5-HTP, Magnesium provide the natural relaxation benefits that only come from plants and herbs. Brahmi is a key ayurvedic herb which is known a mood lifter. Eleuthero, also known as Siberian Ginseng, works as an anti-depressant and is said to enhance memory function as well. Moreover, the approach of having a daytime and nighttime formula caters more specifically to the body's needs at different times of the day. By reading our Research Verified review you will discover other great reasons to buy from this trustworthy company.
Dosage Instructions
For proper use, the daytime capsules should be taken twice a day, once in the morning before breakfast and once in the afternoon with 8oz. of water. One night capsule should be taken prior to bed.
Cost and Guarantee
Each of the AnxiRelief daytime and nighttime formulas can be purchased from the manufacturer's website separately or you can purchase them in tandem and save on the per-bottle price. The stand-alone price a 60-count bottle of the day or night capsules is $48. If you choose to buy a bottle of both the day and night formulas together the cost is $40 per bottle, while a 4-bottle package (two of each) goes for $29 a bottle and the 6-bottles set (three of each) costs for $24 per bottle.
The company stands firmly behind its products offering a full 365 days during which you can return both opened and unopened items for a refund. Return policies don't come any better than that.
Summary of our Research Verified's AnxiRelief Day & Night Review
If you are looking to restore some peace of mind in your daily routine then we feel AnxiRelief Day & Night by Research Verified is worth trying. Its formula, as the brand name implies, looks well-researched and is based on the results of clinical studies. It is produced according to cGMP standards and the generous refund time frame allows you to test its effectiveness with little financial risk. With all these positive attributes we feel comfortable recommending AnxiRelief.
Top analysis brought to you from the Analyze That team.